Tim Don: Ironman world record holder on breaking his neck and the 'halo' that saved his career
By Katie Falkingham
BBC Sport
Last updated on .From the section Triathlon95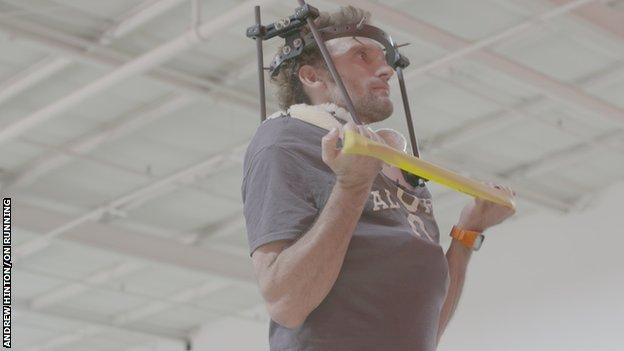 Ask Tim Don to describe the pain, and he simply groans.
"It was like facing the dentist's drill, but 100 times worse," he says.
With four titanium bolts screwed into his head, Ironman world record holder Don spent October to January upright.
Having broken his neck in a collision with a car just two days before last year's World Championships, the 40-year-old Briton elected to be fitted with a 'halo' - a medieval-looking brace attached to his skull that allowed for zero upper body movement in order to facilitate the fracture's healing.
The stuff of horror movies, yes, but for Don, this was real life for three months. Though his kids did have some fun.
"They loved Christmas as they insisted on putting fairy lights around the halo," he tells BBC Sport.
Remarkably, just six months and five days after the collision, Don completed his first marathon in Boston. Last month, he made his Ironman comeback at the 70.3 race in Costa Rica.
He won it.
Broken collarbone or whiplash?
Having smashed the previous world record by more than four minutes, three-time Olympic triathlete Don went into last October's Ironman World Championships in Kona, Hawaii, as one of the favourites to finish top of the podium.
The ultimate test of endurance, an Ironman sees athletes compete over a 2.36-mile swim, 112-mile bike ride and then a full marathon (26.2 miles).
But he didn't even make it to the start line. While out on a training ride two days before, Don smashed into a car which turned in front of him, the driver not realising the speed at which he was cycling.
"I had just put my race wheels on, and I remember skidding towards the car thinking 'no! I'm going to need a new tyre'," he says.
"About 20-odd minutes later, I woke up on the side of the road in a lot of pain. I just thought I'd broken my collarbone or had whiplash."
Scans proved neither to be the case but doctors ordered more to be done because of the large "indentation" on his forehead, caused by his helmet compressing on impact and ultimately saving his life.
A fracture was discovered on his C2 vertebra - in line with the teeth - but doctors in Hawaii said he would only need five or six weeks in a neck brace to recover and let him fly back to his home in Boulder, Colorado.
"When we got to Colorado and the specialists saw me, that's when we realised how serious it was," Don says.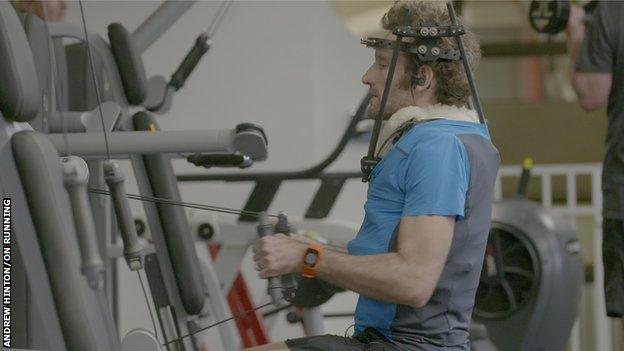 'Grin and bearing' the halo
Don - the son of former Premier League referee Philip Don - was given the option of surgery but chose to be fitted with the halo on the recommendation of his doctor, himself an amateur triathlete.
"The halo was brought in in a holdall, and then I saw the size of the screws, but I had a very practical mindset," Don says.
"I could feel the skin gripping to the screw, I just had to grin and bear it under local anaesthetic.
"They just had an Allen key with a torque wrench on it to tighten it. It clicks when it is tight enough, and when that happens, it vibrates through your skull, into your jaw and then your back."
Don had to sleep upright and could only do so for 90 minutes at a time. His medication made him vomit, but the gagging reflex affected the angle of the screws in his head and therefore left him in indescribable pain.
His wife, Kelly, became a mum to three. She had to wash him, dress him, and clean the screws daily, as well as looking after their two children, seven-year-old Matilda and Hugo, three, who just wanted to jump all over their dad. They simply had to "cope and make it work".
'Pure relief' - goodbye halo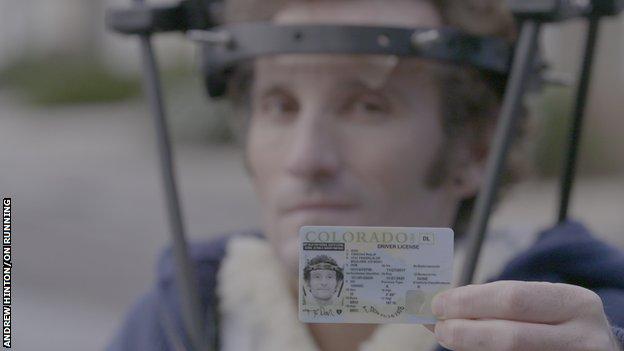 The real hard work didn't start for Don until 3 January this year - a day of "pure relief" as the halo was removed - but the "task at hand" very quickly dawned on him.
A professional athlete since 1997, he had been in the shape of his life prior to the collision, but three months in the halo had left his neck muscles so weak the doctors described them as "spaghetti holding up a bowling ball".
Weeks and months of intensive rehab followed with his neck supported by various braces, though he couldn't swim or cycle for four weeks after taking the halo off.
"It was good to get back to training but it was also mentally hard as well as I wanted to do more but just couldn't," says the 2006 world triathlon champion.
"An endurance athlete is great at pushing themselves but we are not good at doing little and easy.
"I still today can't breathe to my right when I swim as I don't have the range of motion yet."
'I won't be taking crazy risks' - the race to Kona
On Sunday, Don will line up in the Ironman race in Hamburg, Germany, knowing that a top-four finish will secure his place on the start of October's World Championships in Kona - a return to the scene of his accident just 12 months earlier.
"I know I am not in my best shape but I think of the training I have done and I know I can be competitive over the whole Ironman distance," Don says.
"A top-four finish is very much the goal and I won't be taking any crazy risks in the race to go for the win and maybe then lose it all.
"It would mean everything for me to get to Kona. If I am on the start line with 12 more weeks training, I have to believe I can fight for a top five, and if that is possible, maybe I can get on the podium."
Given everything he has achieved this year, a podium finish wouldn't come as a surprise to many. In April, he completed the Boston Marathon in two hours 49 minutes and 42 seconds - just five minutes slower than the marathon leg of his Ironman world record run a year before.
And following his win in Costa Rica in June, Don wrote on Instagram: "I am capable of anything, I can handle anything that comes my way."
Try and argue against that one.