Wingers don't wing it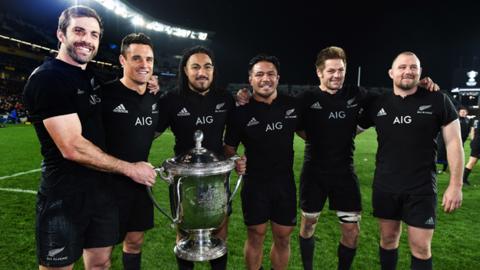 Former England head coach Sir Clive Woodward provides expert insight into how to get the most out of a winning rugby team.
Winning is not rocket science, according to Sir Clive Woodward. "Sheer hard work is everything," he insists - and he should know.
The former England head coach rewrote the manual in his quest for Rugby World Cup glory, which was finally achieved when his side lifted the sport's biggest prize in 2003.
Woodward challenged the traditional dominance of the southern hemisphere nations. "The key question was whether we could get 80,000 fans at Twickenham on their feet going nuts about the way we were playing."
The answer required innovation both on and off the field and at the heart of it all was player welfare.
"It is quite obvious to say that to play great rugby you need players to be in great shape," says Woodward, "but what does this really mean? How do you achieve this?"
Woodward's pursuit of perfection and meticulous planning was summarised by his philosophy of '100 Things 1% Better'.
Many of his principles are now applied across the sport, from world champions New Zealand down to grassroots clubs like Leones de San Marcos in Lima, Peru, which earned the top prize in last year's AIG Rugby Safety Awards by creating a safe environment within which to enjoy the game.
Woodward wanted England to not only be the best rugby team in the world, but also one of the best teams across any sport: "I wanted football or basketball teams to look at what we were doing and just go 'wow'."
This also included the medical team and its approach to strength, conditioning and sports science. "As a coach the bottom line is that a healthier, stronger, fitter team is going to perform better," insists Woodward.
Conditioning specialist Dave Reddin, now Head of Performance Services for the English Football Association, was a cornerstone of Woodward's coaching team.
"Dave revolutionised strength and conditioning in the game," says Woodward. "Each player had a personalised training programme designed to their body's mechanics and the demands of their position.
"Education was also a huge part of it," reveals Woodward. "You have the players with you for a short period of time." With this in mind, they were taught everything, from how to lift weights properly, to how to manage their diet and even how best to sleep.
Giving the players responsibility was an important aspect of protecting them. "Players are desperate to play in the big games. But they need to be so disciplined in recognising when they are not 100% fit, and to make sure they have fully recovered from an injury before getting back on the field.
"Our medical team would work alongside players throughout their recovery, but I still had some pretty frank discussions, having to talk players out of playing for their clubs to protect themselves. Even seemingly niggly injuries can turn into catastrophes if you're not sensible."
To aid this process, England appointed a full-time doctor who was available to players at any time. Special care was also taken to fuel the players' bodies for each challenge they faced.
Devised by the team nutritionist Matt Lovell, the plan included not just the traditional pre-match meal, but dietary requirements for every moment of a player's day. Lovell believed the right diet would aid recovery, improve stamina and develop mental clarity.
The biggest challenge he faced was varying the menu while ensuring the players received the nutrients they needed to perform. Together with the team, he crafted healthy versions of popular dishes such as lasagne and fish and chips.
Failure to hydrate properly can have a significant impact on player's performance.
Woodward ensured that hydration levels were tested constantly, as low fluid levels affect a player's ability to make key decisions under pressure. Players lose fluids at different rates, but were told to ensure that what was lost through sweat was replaced by water or electrolyte-containing sports drinks.
Woodward's attention to detail also resulted in one of the most notable developments in recent rugby history. After watching the opposition stop his full back Jason Robinson by clinging onto the ends of his baggy shirt, he asked the kit manufacturers to supply the skintight shirts that most players now wear.
To give his team even more of an edge, Woodward hired visual skills coach Dr. Sherylle Calder, who has also worked with the All Blacks and South African rugby teams.
Her expertise centres on an athlete's all-round vision, and the ability to process information, react quickly and make better decisions. Woodward was convinced that heightened awareness could improve a player's peripheral vision and spatial awareness.
Concerned that players were only looking up when they had the ball in their hands, new training methods were adopted to help encourage players to be more aware of their surroundings.
Woodward used large banners emblazoned with 'CTC' - 'Crossbar, Touchline, Communicate' - on the goal posts and at each corner of the training pitch. At every phase of play, each player was required to look at the crossbar, then look at each touchline on the side of the pitch before communicating to their team-mates.
Analysis is another key weapon when it comes to preparation and Woodward was the first rugby coach to adopt the ProZone technology, which analyses player movement.
Performance analysis is now commonplace in elite games, with dedicated staff providing video clips of future opponents, and even a team's own training sessions, to help prepare players for every possible eventuality.
The success of Woodward's strategy illustrates that hard work begins on the training field, where repetition of even the most basic skills reinforces good technique. It's what Woodward calls 'controlling the controllables,' and ultimately led to England winning the World Cup.