Guernsey volleyball chief delight at Jersey victories
Last updated on .From the section Volleyball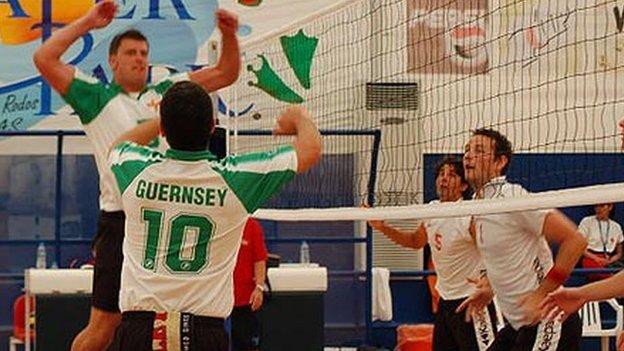 The chairman of Guernsey Volleyball says the success in the weekend's inter-insulars show that the attempts to re-invigorate the sport on the island have paid off.
The island's Men's A and B teams and the Ladies B team all beat Jersey.
"It was a fantastic turnaround," Richard Skipper told BBC Guernsey.
"Last year in St Helier we took a bit of a beating and it gave us a real wake-up call as to where we were at as far as the players are concerned.
"We had to do some real soul-searching straight after last year's inter-insulars.
"Last year was a real awakening to us that we haven't got that strength coming through so it was time that we looked at our whole structure, not just at island level but right from the roots."
It led to a drive to find new players on the island and saw new coaches take over a number of teams.
And the changes paid off in Saturday's inter-insular at Beau Sejour, when the two B teams came from two sets to one down to beat their Jersey rivals, while the Men's A team had a straight sets win over Jersey.
"I think Jersey were more shocked than we were to be honest," Skipper said.
"Generally speaking the Jersey Men's A team are a lot taller and seemingly a lot stronger and they looked on it as a warm-up, but our resolve paved the way for a fantastic result."
And Skipper says he hopes that the wins will ensure future success.
"We know Rome wasn't built in a day and we've changed everything from the branding to even calling ourselves Volleyball Guernsey rather than Guernsey Volleyball.
"It may sound daft but it's a turnaround of where we want to go.
"The challenge lies ahead now, sustaining it and keeping our youngsters involved and active and also looking for opportunities to get our island teams away."