Sport Wales - the TV programme
By Graham Thomas
BBC Wales Sport
Last updated on .From the section Wales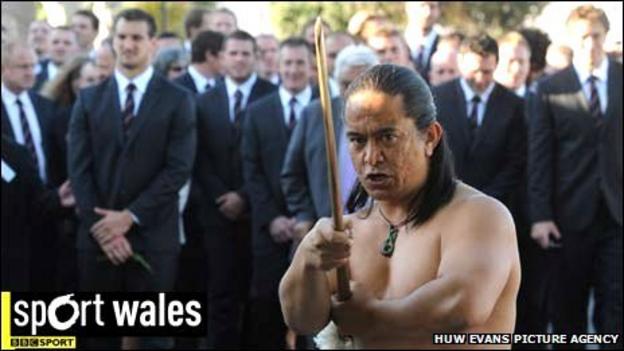 The Rugby World Cup is about to begin and the list of unanswered questions is as long as Luke Charteris's inside leg.
Can Wales beat South Africa for only the second time in history when they meet on Sunday?
Can Wales cope with the subsequent challenges of Samoa, Namibia and Fiji to get out of their pool and into the quarter-final?
Will England make it to their third successive final? What about the strength of the Wallabies, or France, or Argentina?
And perhaps the question that is vexing the entire rugby community - isn't it time the All Blacks, perennial tournament chokers, got rid of the haka and warmed up instead with the Heimlich Manoeuvre?
That's a cheap dig from a Welsh perspective - given Wales have not beaten the All Blacks for 58 years - but the question of "choking" is at the back of every New Zealander's mind, including Sport Wales' old friend Justin Marshall.
Much of this week's programme comes from Wellington and Auckland as we meet up with Marshall, the former Ospreys and All Blacks scrum-half, to preview the tournament and assess whether or not his legendary self-confidence is withstanding the collective doubts gripping the national psyche.
His compatriot, Warren Gatland, is not normally a man associated with self-doubt, but even he admits to us he is feeling nervy, edgy and vulnerable on the eve of the tournament.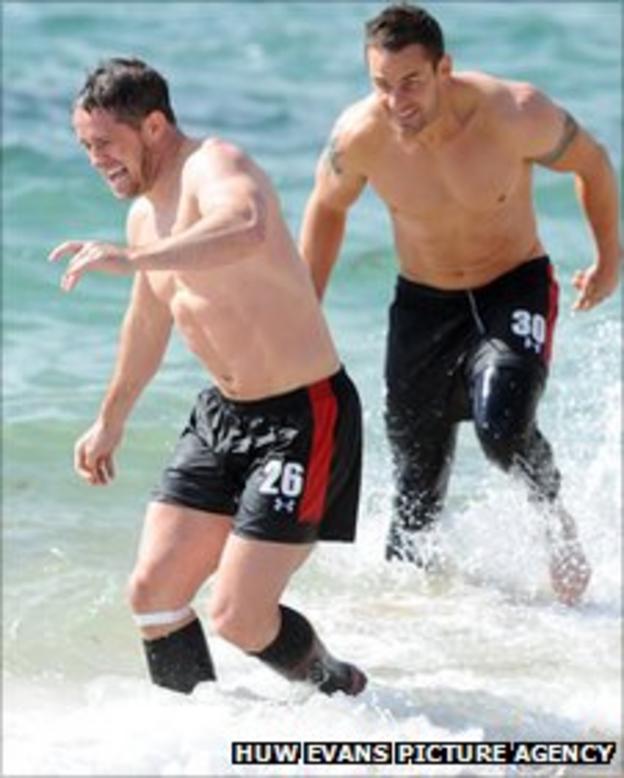 In a revealing interview with our reporter Gareth Lewis, Gatland talks candidly about the pressures that go with his job - and the possibility that if things go belly up he may have to seek employment elsewhere.
We also have a camp report from the South Africans, although their camp is said to be nothing like the infamous "boot camp" they attended before the 2003 competition.
That had them swimming naked in freezing rivers and burying themselves in holes in the ground for overnight accommodation, whilst opposition national anthems were blasted at them from giant speaker systems.
The Springboks' preparation has moved on, but it's doubtful even their old-school methods are as brutal as the training regimes witnessed in Cardiff this week for the wheelchair rugby GB Cup.
The tournament - something of a misnomer as it features countries from around the globe - is being held in Wales a year out from the Paralympics when many of the teams will be based in Cardiff.
For those unfamiliar with wheelchair rugby, the sheer ferocity of the sport is a genuine eye-opener, with full-on, high-speed contact between chairs that have been adapted to resemble steel chariots from some nightmarish sci-fi movie.
We bring you action from the tournament and talk to GB's leading players including David Anthony from Neath.
We also have plenty of time for some football analysis as Ian Hunt reports on the aftermath of Wales' encouraging narrow defeat to England at Wembley.
Faint mathematical hopes of qualification for Euro 2012 may have gone, but the mood in Gary Speed's camp appears to be on an upswing.
And in studio, Jason Mohammad will be joined by former England World Cup winner and Wasps and Lions star Josh Lewsey - a man who once scored five tries in a World Cup pool match.
Sport Wales, BBC Two Wales, Friday, 9 September, 2130 BST