Hannah Mills can inspire fellow Welsh athletes, says Christian Malcolm
Last updated on .From the section Wales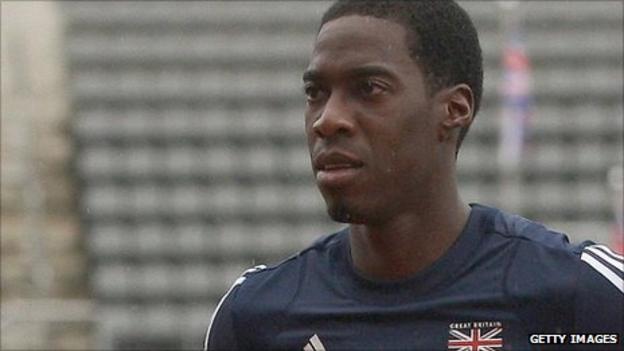 Christian Malcolm is confident Team GB will include a sizeable Welsh contingent at the 2012 London Games.
Hannah Mills became the first Welsh athlete to be selected for next year's Olympics after she was named in the sailing team.
Malcolm, a veteran of three previous games, is hoping Mills will inspire himself and others to secure a spot in Team GB.
"I've got a feeling we'll get more in the team than expected," said Malcolm.
"The more Welsh people we can get into this team the better."
Having been named in Great Britain's 11-strong sailing team, Cardiff-born Mills and crew Saskia Clark will compete in the 470 class.
Malcolm and Britain's track and field athletes will have to wait until a few weeks before next year's games to find out if they have done enough to be selected.
And Malcolm, silver medallist at the 2010 European Championships, believes the pressure is now off for Mills to fully focus on the Olympics.
"I like to think it will relax her a little bit now she's in the team and all she has to do is focus on the Olympic Games," said Malcolm
"She hasn't got other competitions to go and try and achieve the standard to make the team.
"She's done that now and all she can do is just concentrate on all she needs to do.
"I'm a proud Welshman and I always like to follow the Welsh athletes and the Welsh sportspeople."
The 100m and 200m runner from Newport represented Britain at the 2000 Sydney Olympics, Athens in 2004 and four years later in Beijing.
The 32-year-old has previously admitted he considered quitting the sport when his lottery funding was cut in 2009.
"In 2009 when I had that bad year, [then] yes if 2012 wasn't a few years away I think I would have quit then," said Malcolm.
"For me growing up to be at the Olympics games was a dream come true, but to go to one in your home country is definitely a once-in-a-lifetime opportunity.
"If you've got any chance of getting there then you've got to try and go for it. I definitely believe I can go there and do something special.
"Don't get me wrong it isn't going to be easy. But I believe I can go out there and break my PB [personal best].
"If I was to do that then I could quite easily make the finals with those times."
Malcolm was speaking at the launch of the BBC Sports Unsung Hero 2011 in Wales and paid tribute to his first sprints coach, Jock Anderson.
"If it wasn't for him I would be the athlete that I am today," said Malcolm. "He recognised the talent in me.
"When I was 16-years-old he sat me down one day and said 'I believe you can be one of best sprinters in the world and if you're willing to put the work in, so am I'.
"This is what's great about this award. These are people who got you there [and] these are the people who opened the door for you and gave you the opportunity to walk up that path."