Gareth Thomas retires from rugby
Last updated on .From the section Wales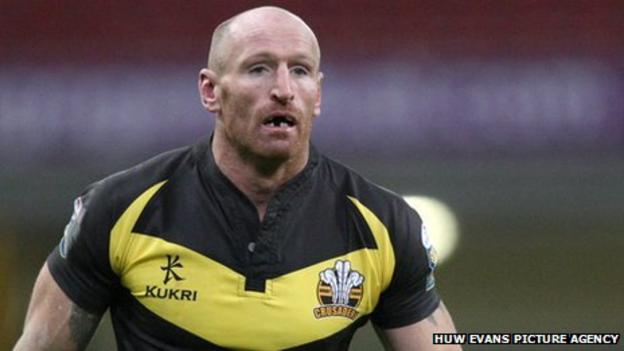 Wales dual-code international Gareth Thomas has announced his immediate retirement from all forms of rugby.
The news comes four days before he was due to play for Wales rugby league against England in the Four Nations.
Thomas, 37, whose last game of rugby was for Crusaders on 9 July, explained the reasons behind his decision.
"I have listened to and discussed this decision with many of my family and close friends. My mind has told me that the time to retire is now," he said.
"If you can't give 100% to rugby then you can't do it justice. This is a sad day but I know that my time has come to an end as a player.
"My passion for the amazing game will never end or leave me, however."
Former British and Irish Lions captain Thomas switched codes from rugby union with Wrexham-based Super League club Crusaders two years ago and, following their demise, was rumoured to be pursuing a shock move to Wigan.
But the surprise announcement on Tuesday brings Thomas' sporting career to an end.
"We can confirm that Gareth Thomas is officially retiring from both international and club rugby with immediate effect," said his agent, Emanuele Palladino, in a statement.
"This marks the end of... a remarkable career for a remarkable person.
"Gareth hopes that through his achievements both on and off the field he has left a lasting legacy within the game."
Thomas made his rugby union Test debut against Japan in 1995 and went on to captain Wales to their first Grand Slam in 27 years in 2005.
The centre or wing then took over the Lions leadership in New Zealand later the same year, after original captain Brian O'Driscoll was injured in the opening Test.
The man nicknamed 'Alfie' has also played for Bridgend, Cardiff RFC, Celtic Warriors and spent three years in France with Toulouse, where he won the 2005 Heineken Cup, before returning to Wales to play for the Cardiff Blues.
Thomas switched codes in March 2010, having won 100 caps for Wales in union - the first man to reach that mark for Wales - by joining the Crusaders and became a dual-code international the following October, scoring on his Wales debut in a 13-6 loss to Italy.
"I do not know what lies ahead, but I feel the challenge of something different excites me more than another year of rugby," Thomas added.
"I would like to thank everyone I have been involved with in the sport. I could not have achieved it without any of them.
"I have great memories and great friends that I will keep for the rest of my life. I leave knowing I have done everything in my power to be the best person and player I could have ever been.
"And finally, I thank my parents for all their support and help throughout my career."
Thomas captained Wales to a famous European Cup win over France that booked Wales' involvement in the forthcoming Four Nations against rugby league big guns England, Australia and New Zealand.
Wales coach Iestyn Harris thanked Thomas for his efforts and wished him well: "I've worked with Gareth for just under two years and the work and desire that he put into his transition from union to league was a testament to his supreme professionalism.
"Even though he switched at a mature age his enthusiasm for information made his switch a huge success.
"Gareth's honesty and reasoning behind his decision were unselfish, it would have been easy for him to play the Wales internationals for his personal gain but he didn't want to take an opportunity off somebody else in our squad.
"I'm sure Alfie will be a huge success in whatever comes next in his life's journey, he certainly has the best wishes of myself and everybody involved in Wales Rugby League."
In December 2009 Thomas took the unusual and courageous decision for a sportsman of revealing that he was gay.
Thomas' life caught the interest of Hollywood star Mickey Rourke, who is interested in playing the rugby star in a film biopic.