Welsh jockey Isabel Tompsett 'lucky to be alive'
Last updated on .From the section Wales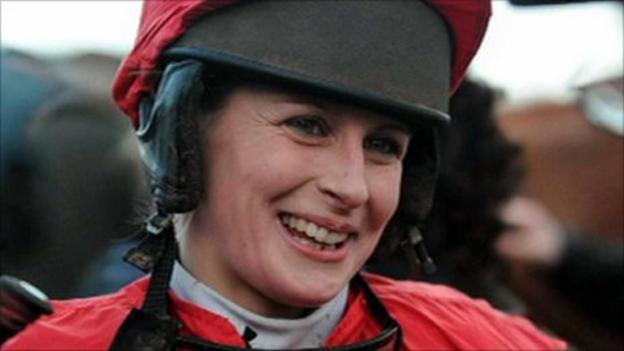 Injured Welsh jockey Isabel Tompsett has told BBC Sport Wales she is "lucky to be alive" following her fall in a race in May.
Tompsett, 29, was thrown off her horse at the final meeting of Fakenham races in May.
She is recovering from severe head injuries at Neath Port Talbot Hospital in south Wales.
"I feel lucky I'm alive... I did stop breathing twice after I fell. So they did have to revive me," said Tompsett.
In the interview for BBC Radio Wales' Back Page programme, Tompsett, who was United Kingdom champion amateur over jumps in the 2009-10 season and has ridden 23 winners, says her recovery is progressing steadily.
She hopes to make enough progress to be transferred to the Injured Jockeys Fund's rehabilitation centre at Oaksey House in Lambourn, Buckinghamshire.
Tompsett, who hails from Llandeilo in Carmarthenshire, wants to return to work as a vet and has also targeted a return to riding, although she doubts the sport's authorities will allow her to race again.
And if she is unable to race, she at least hopes to be able to ride at her trainer boyfriend John Llewellyn's stables at Bargoed.
"Most of the people that come and see me say that I'm making good progress," she said.
"In the last few months [the biggest challenge] has been my ability to balance and walk and it is limited.
"I can't really see out of my left eye. I think that's affecting me a lot.
"It is frustrating, but I haven't really found it irritating because I really did have a really bad bang on the head.
"I can't really remember anything around the time I hurt myself.
"I have read up what was in the newspapers and things and I have looked it up on the internet.
"I feel lucky I'm alive because my family and John, my boyfriend, they do keep telling me that I did stop breathing twice after I fell.
"So they did have to revive me."
Paramedics were by her side within 30 seconds of her fall, and she was flown to Addenbroke's hospital in Cambridge where she stayed for two months.
Her injuries included a broken nose and collarbone, two cracked vertebrae, and elbow and knee damage.
Tompsett has little memory of the incident which saw her horse roll on top of her on the ground after she was unseated going over a fence.
"I don't feel angry towards them [the horses], no," she added. "It's just one of those things.
"It was going to happen and that's when it happened.
"I can't remember the day it happened. It was on hard ground in the summer.
"There are things that I have been reminded of and I can remember.
"But I couldn't really tell you what day or anything like that.
"I would like to go back to riding and if they won't let me race ride I'll have to just ride out at John's.
"I've always ridden horses since I could walk and it's been so important to me that that is what I want to do."
Tompsett is concentrating on making enough progress to be able to take care of herself.
She added: "They've taken good care of me [in hospital] and I'm just trying to progress now so I can go on to the next level.
"I'm trying to look after myself. I've got to cook my own meals and things. And that's good.
"And that's supposed to be getting me ready to go to Lambourn to Oaksey House.
"They have been supportive. They bought my Primrose Lily, my puppy, and they come to see me every week.
"It's been fantastic. She was born two or three days before I hurt myself. I didn't know what a rescue puppy could be, but she has been tremendous."
Listen to The Back Page interview with Isabel Tompsett on BBC Radio Wales, from 0830 GMT on Saturday.