Profile: Nathan Stephens
Last updated on .From the section Wales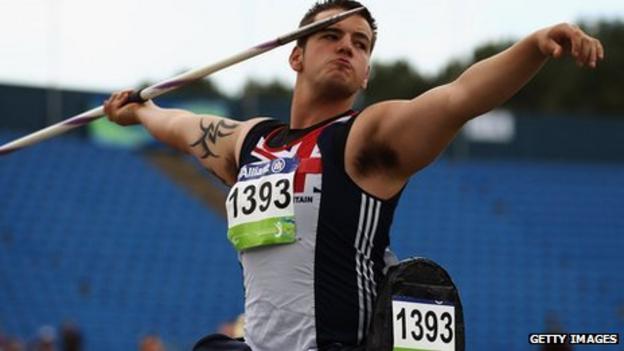 Nathan Stephens has this year showcased why is one of Great Britain's gold medal hopes at the 2012 Paralympic Games in London.
The Welsh athlete highlighted his enormous potential and versatility when he finished fourth in the javelin, eighth in the shot put and 11th in the discus at his debut Paralympic Games in 2008.
But Stephens demonstrated his world class status as an elite javelin thrower when the 23-year-old started the year in style by winning gold at January's Paralympic Athletics World Championships in New Zealand.
Then his stellar 2011 got even better when Stephens broke the F57 javelin world record with a throw of 41.37 metres to win the Czech Athletics Open in August.
"Obviously we targeted the world title in New Zealand," Stephens had said.
"This is when I need to peak for the Paralympic Games in London next year and we wanted to replicate that process so we altered my training."
Stephens lost both legs after being run over by a freight train when he was nine years old.
The Bridgend athlete showed promise early when he won the discus, shot and javelin competition at the 2006 World Junior Games in Dublin before finishing fifth in the shot and discus at the 2006 World Championships.
And he started his dream of sporting success when he was told about Paralympic sport when Stephens was in hospital recovering from his accident.
Stephens won back-to-back javelin titles at the 2009 and 2010 World Junior Games before he stepped up to senior level in emphatic fashion.
The sports coaching student has competed in numerous disciplines at international level as the Bridgend athlete finished fourth at the 2003 London Mini Marathon and seventh playing sledge hockey at the 2006 winter Paralympic Games.