Coming up on Sport Wales: The TV programme
By Ian Hunt
Sport Wales reporter
Last updated on .From the section Wales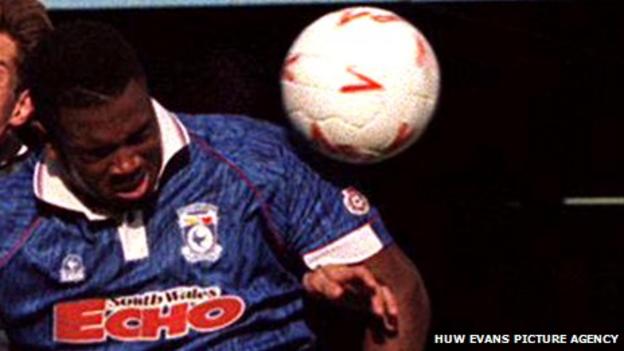 The football world is awaiting a verdict that could have serious repercussions for the man at the centre of it - and the image of the game in the UK.
On 1 February, John Terry appears at West London Magistrates Court to answer a charge of racially abusing Queens Park Rangers defender Anton Ferdinand. A claim Terry strenuously denies.
The imminent conclusion to the unedifying Terry saga comes as Liverpool's Luis Suarez continues his spell in purgatory for racially abusing Manchester United defender Patrice Evra.
And then there was the allegation that Oldham's Tom Adeyemi had to endure racist abuse from a section of the Liverpool crowd during an FA Cup match at Anfield earlier this month.
All the race rows which have blown up over the past few weeks have dragged the game's reputation through fresh mud, reopening the debate on whether football has been purged of the racism that blighted it during the 1970s and 80s… or whether it never really went away.
Sport Wales gets under the skin of this emotive issue by speaking to some past and present Wales internationals who have suffered racial abuse.
Sharing their personal experiences with our reporter Graham Thomas are George Berry - the first black player to represent Wales and now one of the leading lights at the Professional Footballers Association, former Wales striker Nathan Blake and current international and Cardiff City forward Robert Earnshaw.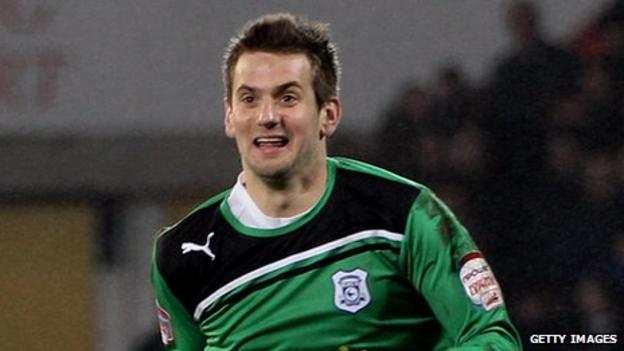 Blake tells the programme how he received a racist death threat with a package delivered to the club's training ground.
"Inside were some nuts and stuff like that and also some abusive writing on the front of the box," said Blake.
"But inside also was a picture of Jill Dando with a picture of a gun with a bullet going towards her head. Underneath was written: 'you're next'.
"The club captain wanted me to take it to the police. But you tend to chuck these things away and move on. That was just one of numerous [racist] things that happened to me in my career."
Adding an academic perspective is Dr Steven Bradbury, a leading lecturer on racism in sport at Loughborough University and a man who's also acted as an advisor on racism to Uefa, European football's governing body.
For all the darkness that might lurk in the sport, football never loses its ability to captivate.
And, whether you're a fan of Manchester United or Morecambe, there's little more captivating than a trip to Wembley - a place Cardiff City could call a second home after they booked their fourth appearance at English football's HQ inside four years.
Sport Wales reflects on Tuesday's epic Carling Cup semi-final victory over Crystal Palace, and asks whether they can pull off a league and cup double that would have seemed unthinkable at the start of a transitional season.
Helping us to preview Swansea's attempt to move a step closer to Wembley in the FA Cup is the former Swan and current Wales international Sam Ricketts. To get to the fifth round of the competition Brendan Rodgers' side will have to conquer Ricketts and his Bolton Wanderers team-mates at the Reebok Stadium this weekend.
For Ricketts the fourth round tie will be the latest step in his recovery from a long-term Achilles injury that bit a 10-month chunk out of his career.
As someone who tweeted his desire to see Gary Speed's number two Raymond Verheijen retained on the coaching staff, we also get Ricketts' verdict on the appointment of Chris Coleman as Wales manager.
All was well in Wrexham's world… until their seemingly unstoppable surge towards promotion suffered a rare setback on Tuesday night.
Our cameras were trained on Andy Morrell's men as their 16-match unbeaten run came to an end with a surprise defeat that knocked them off the top of the Blue Square Premier. So, with the transfer window shutting next week, what will the rookie manager do to get his team back on course?
Away from football, we continue the countdown to rugby's Six Nations Championship with the traditional pre-tournament verbals from the launch of this year's competition.
Plus we have got a special report on Wales' Olympic swimming hopefuls - Jazz Carlin, Jemma Lowe, Georgia Davies and Tom Allen - after they took part in a three-week training camp in the USA.
Armed with a camera, the quartet shot some footage of their own as they stepped up preparations for London 2012 by competing in the high-class USS Grand Prix event in Texas.
Watch Sport Wales, Friday, BBC Two Wales, 2200 GMT