Matthew Pinsent tips Welsh rowing for three 2012 Olympic medals
Last updated on .From the section Wales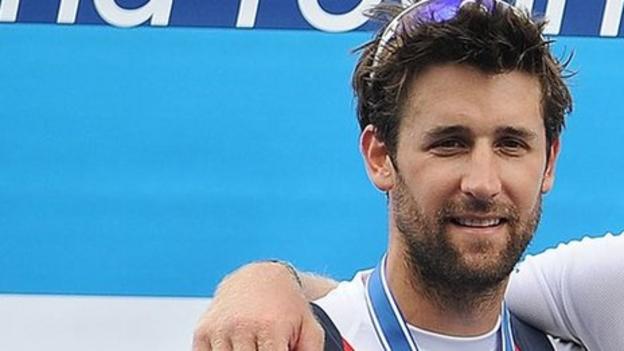 Olympic great Matthew Pinsent has tipped Welsh rowers to win three medals at the 2012 Olympic Games in London.
Defending Olympic champion Tom James is set to lead the way for Welsh rowing in the coxless fours but Chris Bartley and Vicky Thornley are also medal hopefuls.
Bartley and Thornley won 2011 World Championship bronze in the lightweight four and women's eight respectively.
"It could be a good games as far as Welsh rowers are concerned," said four-time Olympic champion Pinsent.
Wales have only once won more than two rowing medals at an Olympics when Hugh Edwards secured gold in the coxless pairs and coxless fours at the 1932 Los Angeles Games.
The total haul of Olympic rowing medals for Wales is five, starting with Albert Gladstone's coxed eights gold in the 1908 Olympics in London.
Edwards' double in the United States was followed by a bronze for Charles Wiggin in coxless pair at the 1980 Moscow Olympics.
James took gold at the 2008 Beijing Games in the coxless fours, and is bidding to become the first Welshman to successfully defend his Olympic title.
The 27-year-old starred alongside Andy Triggs Hodge, Peter Reed and Steve Williams as Great Britain's coxless fours - traditionally Britain's flagship Olympic boat - won their third successive Olympic crown in China.
James, who took a rowing sabbatical after Beijing, was the only remaining member as the Team GB four won the 2011 World Championship crown in Bled.
Reed and Triggs-Hodge were moved to the pairs, leaving James to share his new-look boat with Matthew Langridge, Richard Egington and Alex Gregory.
GB Rowing men's coach Jurgen Grobler has yet to finalise his selection plans but Olympic great Pinsent is sure James will figure in the fours.
"Tom is an outstanding oarsman and technically he is very very good," said Pinsent, who won his final two Olympic golds in the coxless four boat.
"There are guys bigger than him who pack more of a punch in power but technically he is fantastic.
"If you look at the difference he has made to the four since coming back from his break after Beijing, the boat is very smooth, very rhythmical and very efficient with him in it.
"On a rowing machine Tom might not be in the top four or six scores but you are definitely going to pick him because of his boat moving ability.
"He has a fantastic rhythm and that is one of the key ingredients for a boat so it goes quick and efficiently across the course - so I can't see him him being out of the top four."
Bartley won the 2010 World Championships in the lightweight fours but the team, which also includes Richard Chambers, Paul Mattick and Rob Williams, finished third in last year's showpiece as they were beaten by Australia and Italy despite recording a quicker time.
"For the defending world champions they felt it was a disaster," said Pinsent.
"But it is testament to their ability and expectation that they think a bronze is a disaster.
"They will be definitely looking to win in London but there is about half a length between first and sixth."
But Pinsent does not expect Thornley to be celebrating an Olympic gold medal in the women's eight final at Eton Dorney lake on 2 August.
Thornley, Alison Knowles, Jo Cook, Jessica Eddie, Louisa Reeve, Natasha Page, Lindsey Maguire, Katie Solesbury and Caroline O'Connor finished behind the United States and Canada at the 2011 World Championships in Slovenia.
"I cant see them winning the event," said Pinsent.
"But I can see them getting a silver but there are three other crews who will think we climb up here - it is a much deeper event so they are going to have to dig in."