Coming up on Sport Wales: The TV programme
By Graham Thomas
Sport Wales reporter
Last updated on .From the section Wales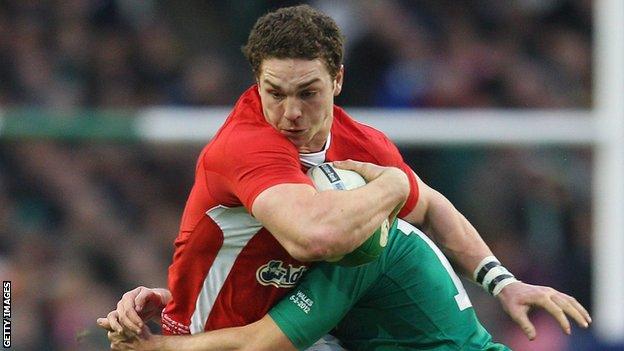 It's an image that will endure - a giant in a play-pen, scattering green shirts in all directions as he heads towards the try-line.
The power is raw, unprocessed, almost as new and unfamiliar to the young man in possession of it as it is to those on the receiving end.
Jonah Lomu was just days past his 20th birthday when he scored two tries against Ireland at Ellis Park, Johannesburg in his opening match of the 1995 World Cup.
There was a moment in the opening minutes of that game, as Lomu first took possession, when a collective gasp echoed around the stadium.
He had little room on the left flank, but it was the way he broke tackles, bumped off defenders, and almost reached the try-line that announced Lomu as a force different from anything else on the field.
George North gave a reminder of that moment - now 17 years ago - when he caused similar panic against the Irish in the first few minutes of Sunday's game.
There was the same alarm, the same shock, and an extraordinary freshness about the extent of North's destructive capabilities and the potential they hint at.
North is not 20 until April. But, like Lomu before him, the young Wales wing scored against Ireland with players hanging off his body. Another similarity is North's speed, his balance and skill - all abundant in the try he created for Jonathan Davies.
This week Sport Wales shoots the breeze with the North wind as the other Jonathan Davies chats with the Scarlets star - about Dublin, the pursuit of power, and whether or not Scotland are going to suffer in Cardiff this weekend.
We will also hear from those who are preparing to face North, from north of the border. Scotland have only ever won once at the Millennium Stadium - back in 2002 - and their home defeat to England last week felt more like a missed opportunity than a heroic near miss.
James Pontin is in Edinburgh to gauge the mood and reaction from past players and present, while we will also hear from Warren Gatland and those in the Wales camp.
Away from rugby, we will have all the goals from Swansea City and Cardiff City's recent games, while the Olympic and Paralympic focus is turned on swimmer David Roberts.
Not content with being one of Britain's most successful Paralympians to date - his achievements are almost as long as the wake that trails out behind him - Roberts is intent on breaking Dame Tanni Grey-Thompson's mark of 11 golds.
Roberts shares that number at present, but at 31 his body must be feeling the rigours, particularly as in recent times he has suffered two broken arms and an operation to remove kidney stones.
Llinos Lee meets up with him at the swimmer's home in Caerphilly, plus we are with him for his first training session of the day at 5am.
In studio, presenter Jason Mohammad will get the Six Nations predictions on week two from former Wales captain Gwyn Jones.
Watch Sport Wales, Friday, 10 February, BBC Two Wales, 2200 GMT