Isabel Tompsett determined to ride again after horror fall
Last updated on .From the section Wales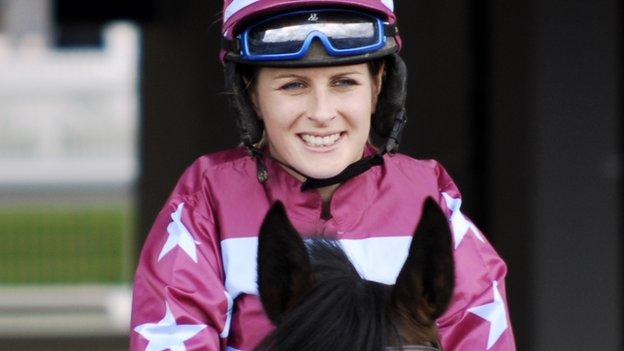 Champion amateur jockey Isabel Tompsett continues to be upbeat about returning to a normal life - and to the saddle - after her horror fall in May.
Having been resuscitated twice after her fall at Fakenham, the Carmarthen-born jockey, 29, was in a coma for six weeks with severe head injuries.
Nine months later her recovery is still an uphill battle, but she is determined to return to her job and ride again.
"I can see that I am slowly progressing," Tompsett told BBC Wales.
Tompsett is currently recuperating in Oaksey House, a residential rehabilitation centre for jockeys at Lambourn.
Immediately after the fall in May, she was unconscious on the course and unable to breathe, later admitting she felt lucky to be alive.
The next seven weeks were spent at Addenbrooke's Hospital in Cambridge, during which time her family relocated to Newmarket to be with her.
After showing signs of improvement, Tompsett was finally moved closer to home to the Neath Port Talbot Hospital, where the serious rehabilitation began.
Her entire left side was paralysed and she only had sight in one eye but, remarkably, within six months of the accident she could walk again.
A letter from the Queen was amongst the hundreds of cards of support received and, after some heavy fund-raising and demonstrating that she was self-sufficient, Tompsett achieved her target at Christmas of moving to the specialist centre at Oaksey House.
The centre was built and is run entirely by the Injured Jockey's Fund, the brainchild of former amateur jockey and broadcaster Lord Oaksey.
"I'm doing quite a lot better," said Tompsett in an interview for a special edition of the BBC Radio Wales' The Back Page programme to be broadcast this Saturday (3 March, 0830 GMT).
"I'm now in Oaksey House, where you've got to deal with all the cooking and cleaning yourself.
"I've got a lovely house and I'm really having a good go at doing all the things to keep me on the move.
"They're really good with the physiotherapy here. They don't teach you to do things that aren't necessary."
Channel 4 Racing broadcaster Derek Thompson, who was commentating on the race, has clear recollections of the fall last May.
He told the programme: "The horse seemed to jump the fence all right, but Isabel seemed to come down head first, like a rocket going into the air but it was going down into the ground and I knew straight away it was really bad.
"It later transpired that she had died twice during the race and it was something that I'll never, ever forget. It was my worst day in racing."
Sixteen-times champion jockey Tony McCoy, who was also riding at Fakenham on the day of Tompsett's accident, added that he has total admiration for the Welsh jockey.
"Isabel was a very competent amateur," said McCoy. "She rode in a lot of races and had a lot of winners.
"I'm very lucky, and probably like everyone else, we enjoy what we do and that's why we do it.
"Obviously, if you're successful, it makes it better. A lot of people like Isabel do it for the fun of it rather than from a job point of view.
"People like Isabel do it for the thrill of it, but on her day off."
Not only was Tompsett a familiar face in the weighing rooms at various race courses, she also visited many of the top racing yards across south Wales and Gloucestershire in a professional capacity as a vet.
Returning to that line of work is now her primary aim, but first she is intent on getting back into the saddle.
"I haven't forgotten how to do things," said Tompsett, the United Kingdom champion amateur over jumps in the 2009-10 season.
"And hopefully in the next few weeks I'll get up on a quiet horse. It doesn't worry me."
The Back Page, BBC Radio Wales, Saturday 3 March (0830 GMT)