Welsh sport's golden glow
By Peter Shuttleworth
BBC Sport Wales
Last updated on .From the section Wales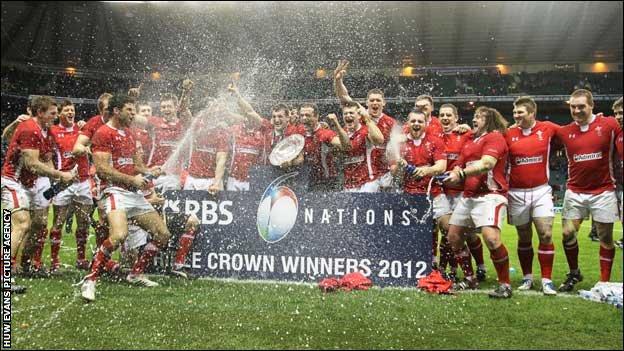 The green, green grass is radiant with a golden glow.
And it is not just Welsh rugby that is enjoying another golden era, sport in the world's 155th largest nation is on the cusp of an unprecedented age of success.
Wales' rugby heroes will hope to celebrate a third Grand Slam in eight years against France on Saturday, Swansea City's 1-0 win over Manchester City on Sunday has virtually secured their Premier League status and Cardiff City are continuing their top-flight push.
Yet Welsh sporting glory runs much deeper.
Nathan Cleverly has followed mentor Joe Calzaghe to the top of the boxing world, Mark Williams returned to the top of snooker's world rankings, the Celtic Manor staged one of the most dramatic Ryder Cups and Wales is tipped to toast its best Olympics performance at London 2012.
Hurdler Dai Greene , triathlete Helen Jenkins and rower go for Olympic gold as world champions while cyclists Geraint Thomas and Nicole Cooke hope to become the first Welsh athletes to secure successive Olympic golds for 40 years.
Swimmer David Roberts could then add to his 11 golds in London to surpass fellow Welsh athlete Tanni Grey-Thompson's Paralympic record.
Welsh sport has had success before, but not all at the same time.
"It is a great time for Welsh sport, maybe the greatest," acknowledged Welsh rugby legend Gareth Edwards.
"Performances in all the sports have been quite outstanding and we should recognise and enjoy the moment."
Former Wales captain Edwards, widely regarded as the greatest rugby player of all time, watched Wales beat Italy on Saturday to set up another Grand Slam before watching his beloved Swansea stun Premier League title-chasers Manchester City and record one of the greatest results in Welsh football history.
"Wales should feel pride watching a side playing such wonderful football representing them in the Premier League," said Edwards, who was a former Swansea youth-team midfielder before concentrating on rugby.
"The Swans have to compete with some outstanding teams with far greater budgets but it makes me so proud that a side like Swansea can hold their own in the Premier League and play such attractive football.
"But nothing would please me more than seeing Cardiff City take the next step out of the Championship.
"Cardiff did Wales proud in their Carling Cup final against Liverpool but to have two sides in the Premier League would be great for Wales."
The Bluebirds, who have failed in successive play-off campaigns, graced the 2008 FA Cup final at Wembley, losing to Portsmouth, before returning for this year's Carling Cup showpiece.
Premier League promotion, however, is Cardiff's main goal and Malky Mackay's men returned to the Championship play-off places on Saturday with victory at Bristol City.
But Wales rugby team's at the Millennium Stadium was where the main party was at as the Welsh, a surprising fourth at the 2011 Rugby World Cup, aim to claim another clean sweep.
Wales won three Grand Slams between 1908 and 1911, two between 1950 and 1952 and another three between 1971 and 1978.
Now players like Adam Jones, Gethin Jenkins and Ryan Jones could join an elite treble Grand Slam winners club should Wales beat France in Cardiff on Saturday and add to their all-conquering campaigns of 2005 and 2008.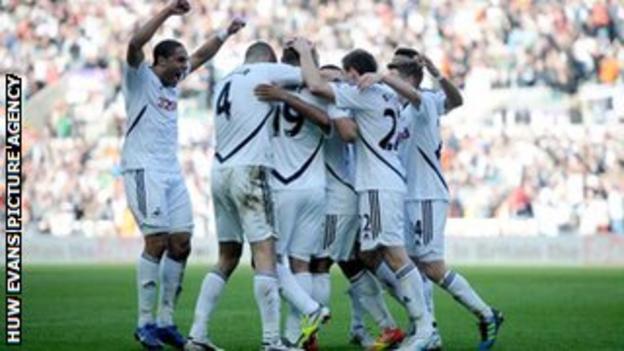 "The rugby is very, very exciting," said scrum-half great Edwards.
"There have been some dips in form and we haven't had the consistency we would have hoped for.
"Now we have the right personnel and mentality to be successful for a long time, we have exceptional players who are well coached and enjoy what they are doing.
"And like Swansea they can play with style yet have a steely defensive resilience."
Edwards excelled at athletics during his early years and is confident Wales' sporting success can continue at the 2012 Olympic Games in London.
Wales' record medal haul in a single Olympics is five while the Welsh gold medal record is four at the 1920 Antwerp Games.
The Welsh hope to beat both marks at London 2012.
Thomas wants to help Team GB retain their team pursuit honour, James hopes to inspire the coxless fours to back-to-back titles, while 400m hurdler Greene wants to complete the set and add Olympic gold to his world, European and Commonwealth crowns.
Welsh rower Chris Bartley is tipped for a gold in the lightweight men's four while sailor Hannah Mills, taekwondo's Jade Jones and swimmer Jazz Carlin in the 4x200m freestyle relay could also top the podium.
Rower Vicky Thornley in the women's eight and Team GB hockey star Sarah Thomas are strong medal prospects.
"Welsh athletes at the Olympics - with Dai Greene leading the charge - will do us proud," said Edwards.
"When Welsh rugby teams win Grand Slams, every kid wants to kick a rugby ball around in the street, when the soccer is successful everyone wants to kick a football and when Olympians are successful, everyone wants to be an athlete.
"Hopefully the Welsh will be spoiled for choice.
"But it does give our young people great role models who want to be part of the next generation - this is part of the contribution of the present day stars to Welsh sport's future success.
"Legends can be made this year and they will make us proud to be Welsh."