David Davies targets 10km open water place
Last updated on .From the section Wales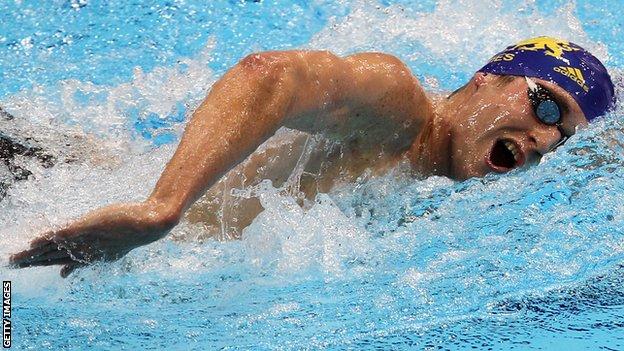 David Davies is confident he will be selected for the open water event at the 2012 London Olympics.
And the Welshman also wants to compete in the 10km race in which he claimed silver at the Beijing Games in 2008.
"[It's] back in my hands because obviously last summer I was out of it," he said.
Davies finished 26th in a 60-man field at the European Open Water Swimming Championships in Israel in May 2011.
He missed out on the World Championship in Shanghai, where fellow Welshman Tom Allen and Daniel Fogg both missed out on 2012 qualification.
Now Davies is hopeful he can secure his place in the 10km event in a qualifier in Portugal in June.
"Hopefully that swim will put me back in contention to try and qualify," said Davies.
The Welshman has endured a difficult few years and considered quitting because of the fatigue problems that forced him to withdraw from the World Championships.
But having qualified for his third Olympic games the 27-year-old believes he is close to returning to his best.
"I'm delighted to be on the team, that's the main thing I've come here for," he said.
"I've been selected now for the pool and that's a fantastic achievement.
"Given the rollercoaster ride I've had in the last couple of years I think I would have taken that time any day.
"Hopefully now I can improve in the summer and get back to the levels I want to be at."