London 2012: Sarah Thomas focused on Olympic hockey gold
Last updated on .From the section Wales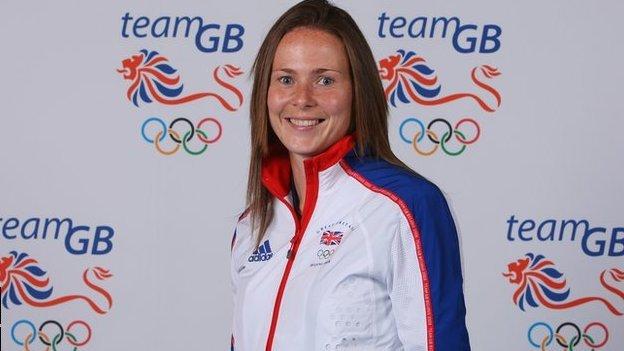 Sarah Thomas is the only Welsh woman in Britain's extended women's hockey squad, having already forged an impressive reputation on the international stage.
The 31-year-old has played professional hockey in Holland, represented Wales for 15 years, captained her country and played in the 2010 Commonwealth Games in Delhi. She has also been part of the GB squad since 2003 and played at the 2008 Olympics in Beijing.
Thomas, who was born in Aberdare but grew up in Merthyr Tydfil, has come a long way since she first picked up a hockey stick as a 13-year-old, winning a Wales Under-16s cap six months later.
A senior Wales cap came at the age of just 16 for the former Dowlais Ladies player.
The midfield and forward player's focus is now firmly on being part of a gold medal-winning GB team at London 2012 - a fitting accolade after so many years in field hockey.
"I was 16 when I got my first senior cap for Wales... everything went very quickly from there," said Thomas.
Thomas recalls being starstruck by the whole experience of Beijing 2008 as part of the GB squad which finished sixth at that games.
"It was phenomenal," said Thomas.
"I think it's bigger and better than anything you expect. You are sitting down for dinner in the food hall and you are next to celebrities you are used to seeing on television. It's a real eye-opener."
Thomas' desire to reach her full potential as a hockey player saw her move to the Netherlands after Beijing to play for a club in Rotterdam.
"The Rotterdam club had seven astroturf pitches when, in this country, you could find one dotted here and there," said Thomas.
"They had a stadium, a professional league and I was playing alongside players who had won Olympic gold medals. There were players from Japan who couldn't speak English, let alone Dutch.
"I got my head down and focussed on hockey with the goal of going to the Olympics."
Thomas's desire to get her hands on an Olympic gold medal saw her leave Rotterdam and her own personal training business to return home a year ago to train for London 2012.
She is one of 28 members of the extended GB women's hockey squad vying for the 16 spots for the Olympics squad which will be named on 18 May. The appetite for hockey at the Olympics is demonstrated by the fact all the games at Olympic Park are already sold out.
"When London 2012 comes with 16,000 spectators watching it is going to be like having an extra man on the field," said Thomas.
"Hockey players aren't big names in this country, but if you look at Holland and Argentina, the number one and two countries in the world, they are big names and people know who they are."
Off the pitch, some interesting opportunities have presented themselves - although she had to turn down an invitation to dinner with the prime minister.
"I did get an invitation to go to No 10, which I didn't quite believe, but unfortunately we had a training camp and tournament in Spain that week," she said.
Thomas was also one of the GB squad invited to put the Duchess of Cambridge, Kate Middleton, through her paces at a recent training session.
"You could tell she had played before, she kicked off her heels and put on her trainers and got out her stick," added Thomas.
While they are all new distractions in Olympic year, Thomas only has one aim for 2012.
"I have a driven mindset and my mind is on the gold medal," she said.
BBC Wales Sport's catch up with Sarah Thomas is on BBC Two Wales & BBC iPlayer on Friday, 13 April at 2200 BST.