Tom James given time to prove World Cup fitness
Last updated on .From the section Wales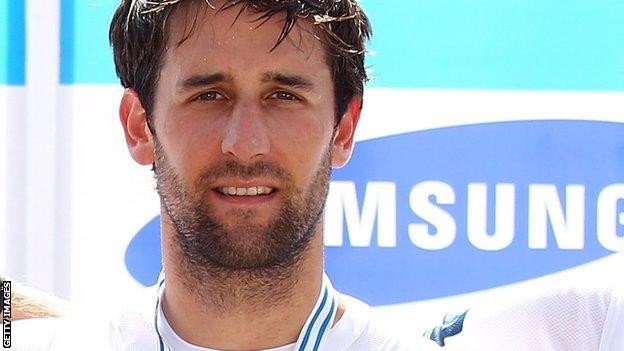 Welsh rower Tom James will find out in 10 days for which event he will be selected at the forthcoming World Cup.
James will either stay in the Great Britain coxless four or switch to the eight depending on his fitness.
The 2008 Olympic gold medallist is coming back from a heart complaint discovered during the winter.
"That he is still considered for the coxless fours shows the big improvement he is made," said Great Britain coach Jurgen Grobler.
"[The reason] we haven't made the final decision is because of respect of a world champion who hasn't had a fair chance to defend their seat.
"He didn't because of illness and we gave him as much time as possible because out of respect of a world champion and we don't have many [of them]."
James was picked in the GB World Cup squad along with fellow Welsh rowers Victoria Thornley and Chris Bartley on Wednesday.
The north Walian's preference would be to row in the coxless four, the event in which he won gold at the Beijing Olympics in 2008.
And the GB management are giving James as much time as possible to prove his fitness.
If he fails to do that, Alex Partridge will be selected for the four and James will go into the eight-man boat.
It is likely that the World Cup teams will be the same that go to the Olympics.
But it will be a remarkable comeback for James, who was diagnosed with the heart complaint called Atrial Fibrillation in 2011.
"Tom was a long time under rehab training because he had some illness in the winter," said Grobler.
"That's how we treat people in principal - he is a world champion - to give people enough time to get fit and ready so they can defend their seat.
"A big credit to Tom. He really has fought his way back. At Christmas time you couldn't quite see which way he was going.
"He was tough and hard on himself, together with the medics who really did a very great job to bring him back to where he is now.
"That he is still considered for the coxless fours shows the big improvement he is made.
"He has been through a very tough time. Big credit to him.
"He started well after the World Championships [in 2011] but he wasn't with us at camps before and after Christmas because he has to around the medics to help him to come back."