Rob Howley named Wales caretaker for summer Tests
Last updated on .From the section Rugby Union
Wales coach Warren Gatland will not be in charge in Australia this summer for the three-Test tour, with Rob Howley being named caretaker coach.
Gatland, 48, is recovering in New Zealand from a recent fall when he fractured both heels.
He will also miss the summer international against the Barbarians.
"Although I am devastated to be away from the action I am delighted that we have someone of Rob's calibre to take charge in my absence," said Gatland.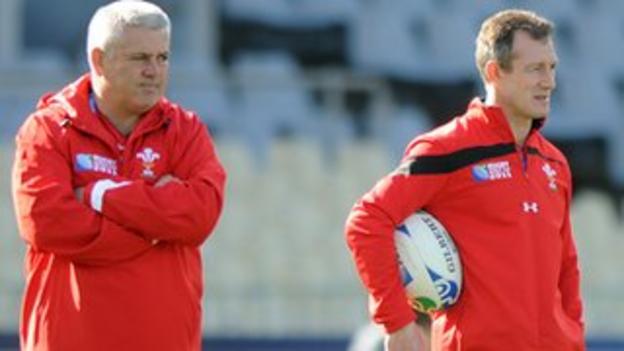 "I know Rob will be his own man as caretaker coach, but he and I share a similar vision about the international game so the players and coaches will know what is expected of them."
Gatland will not undergo immediate surgery but has been advised that the injury to his right foot is severe and that he is unlikely to be able to bear weight on it by early June.
Welsh Rugby Union chief executive Roger Lewis said Gatland might join Wales for the second and third Tests in Australia, but that would be in a "supportive role, not an active role".
Gatland, who guided Wales to a second Grand Slam of his reign this season, is also likely to coach the 2013 British and Irish Lions' tour to Australia.
Lewis revealed on Thursday that if Gatland did coach the Lions, he would have only two games left in charge of Wales before that, in the autumn series.
"What I proposed... is that Warren would coach Wales for the (autumn) Australia and New Zealand games, Rob would coach Wales for the Samoa and Argentina matches, and then Rob would be in charge of the Six Nations next year, and then it's business as usual thereafter," Lewis told the BBC.
Howley, a former scrum-half who made 59 appearances for Wales, said he was "proud" to be leading his country.
"We will be working to secure victory against the Barbarians after the defeat we suffered last year and the Tests in Australia are an opportunity for us to deliver a win in the southern hemisphere," he said.
"Along with the rest of the coaching team I am immensely proud to have been offered this opportunity and we will give our all until Warren is ready to take full control again."