Jamie Baulch calls for Dwain Chambers to be banned for life
Last updated on .From the section Wales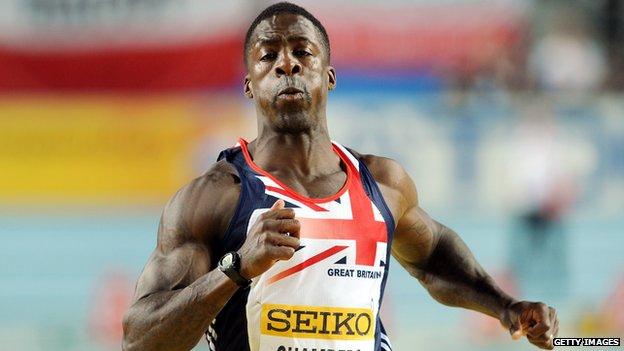 Former Olympian Jamie Baulch believes former drugs cheat Dwain Chambers should be banned for life.
But he could compete at this summer's London Games if the BOA loses its legal fight against the World Anti-Doping Agency.
"I know Dwain well and Dwain's a lovely bloke but he should be banned for life," said Baulch.
"[He should be] banned, never allowed back in the sport."
Britain is the only country in the world that still enforces a lifetime ban for drugs cheats.
But that ruling looks set to be overruled by the Court of Arbitration for Sport next week.
"The issue I've got for Dwain is there's other people who are allowed back and who are going to be competing at the Olympics. That's unfair," added Baulch.
"If people are saying Dwain can't because he is British but then some American can why should he be allowed and Dwain can't?"
Baulch himself has suffered at the hands of a drugs cheat.
Baulch and fellow Welshman Iwan Thomas were part of the Great Britain 400m relay squad that took silver at the 1997 World Athletics Championships in Athens.
But the winners USA were stripped of their gold when Antonio Pettigrew admitted in 2008 he was on drugs at the time.
The Welsh duo along with Roger Black and Mark Richardson collected their gold medals 13 years the race in 2010.
British sprinter Chambers, found guilty of taking the anabolic steroid THG, hopes to get a chance at London.
The British Olympic Association bans drug cheats for life but the Court of Arbitration for Sport will decide if it breaches the world anti-doping code.
But another Welsh athlete Christian Malcolm has more sympathy for Chambers than Baulch.
"He has served his time now," Malcolm told BBC Wales in March.
"When he first failed the drug test, I was the first person he called. But what I heard in his voice was the disappointment and the fear.
"I was angry at him but I knew he was hurting and I knew he needed me.
"He came to stay with me for six to eight weeks during that period to get away from the media.
"He apologised and we had our discussions and I have forgiven him for what he has done."