Jazz Carlin focuses on final chance for Olympic qualification
Last updated on .From the section Wales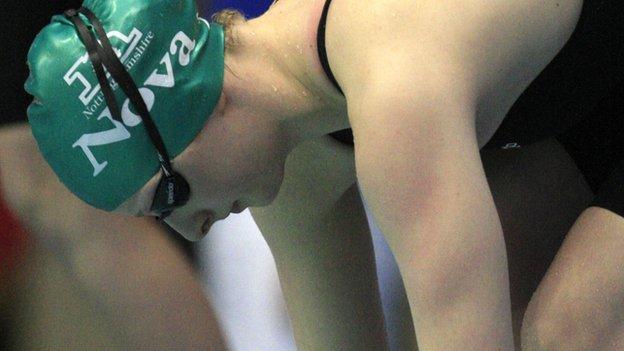 Welsh swimmer Jazz Carlin will put the disappointment of London 2012 trials behind her as she prepares for a final chance to qualify for the Olympics.
Carlin, 21, failed to qualify for Team GB last month in her favoured 400m freestyle event, before withdrawing from the 800m final through illness.
The Swansea-based swimmer now has one last chance to qualify in the 200m.
"I went out there and did the best I could and obviously it didn't happen that week," said Carlin.
"I've just got to hope that come June I'll be fit, healthy and ready to go."
Carlin, who won a silver medal in the 200m freestyle at the 2010 Commonwealth Games, saw her London 2012 trial hopes dashed by a bout of glandular fever.
Now recovered, she is preparing for trials in Sheffield in June, which will be Carlin's last chance to qualify for an individual and relay place in the 200m event at London 2012.
"I'm feeling a lot better," she said.
"It took a huge knock to my immune system after glandular fever.
"I think that was the hardest thing to deal with, that any sort of illness that was going around I was getting it.
"Before the trials I was on a low dose of antibiotics for six weeks and going through the trials it wasn't easy for me, I had to just get on with it.
"I wanted to be at the trials, I wanted to swim the best I could and obviously it didn't happen at the time which is disappointing.
"But I've got June to look forward to and I'm going to focus on the 200m now."
Despite the disappointment at the London trials, Carlin remains upbeat about the challenge of qualification in Sheffield.
"It's exciting for me because I've never really had the opportunity to train purely for the 200m," said Carlin.
"I'll get a chance to work on my speed and also work on other things that I wouldn't normally do for the distance.
"So I'm excited to have that as my main focus."
If she does qualify, Carlin will join fellow Swansea-based swimmers Georgia Davies and Jemma Lowe in Team GB. Welshman David Davies and Ieuan Lloyd have also already secured their places in the team.
"I'm confident in my ability," she added.
"I've just got to make sure I do everything I can and work as hard as I can and hopefully that can pay off come June."