Wales waits to catch Olympic fever
By Andrew Weeks
BBC Wales' London 2012 producer
Last updated on .From the section Wales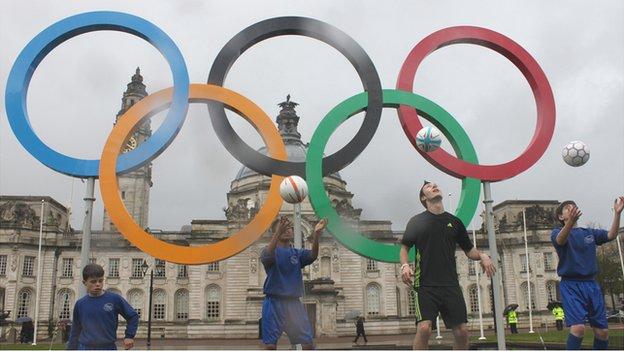 Following the 100 days to go milestone, we witnessed a few more this week as Cardiff's Olympic rings were unveiled and the draw for the Olympic football tournament was made.
So is Wales 'up' for the games? Are we engaged with the London Olympics? It's difficult to say.
From the audience reaction on BBC Wales this week, there seems to be indifference from many, complemented by a growing interest and enthusiasm from others.
When asked about this on Jason Mohammad's phone-in on Radio Wales on Wednesday, Olympic medallist Jamie Baulch said there didn't seem to be much Olympic fervour in Wales but that was starting to change.
Now we know which footballers could be coming to Cardiff, will this influence people's interest? To date, the football tournament is the only competition not to sell out and with an estimated 5,000 tickets sold for the opener in Cardiff on 25 July it is yet to capture the public's imagination.
However, the spectre of Luis Suarez and Diego Forlan playing at the Millennium Stadium for Uruguay could change matters. Neymar, David Luiz and Ronaldinho have all been named in the provisional Brazil squad and were they to turn up on 26 July that would surely be enough to put bums on seats.
Javier Hernandez is set to feature for Mexico and, though not scheduled to play in the group stages, Juan Mata of Chelsea and Manchester United's David de Gea have been named in an initial list for Spain, and could yet feature in Cardiff in one of the later rounds.
Put the Team GB debate to one side for the moment, it's unlikely that the Welsh sporting audience will shun the opportunity to watch the likes of David Beckham and Ryan Giggs if selected. So it's a case of watch this space as the tickets go on sale again next month.
Outside of Olympic competition times, there will be plenty of sportsmen and women using Wales as their base ahead of the Olympics and Paralympics.
Athletes from New Zealand, Trinidad and Tobago, and Botswana will prepare in Wales in July and could also compete in Cardiff.
Go to the European Athletics website and you'll see an international meeting listed for 18 July in Cardiff. My understanding is potential stars of track and field such as 2008 Olympic 100 meter silver medallist Richard Thompson (Trinidad & Tobago) could feature, as well as world champions from New Zealand and Botswana.
Organisers are also hoping to lure Welsh stars back from their training camps to take on some of the best athletes in the world.
In June, 145 of the World's best canoe slalom paddlers from 38 nations will compete at Cardiff International White Water in World Cup. The event will be one of the last major events to be held in the UK for an Olympic Sport prior to the Games.
The event will act as the final selection race for Olympic team places for many of the countries attending.
Cardiff has already played host to an international training camp for boxers this year, with another planned for later in 2012.
And some of the biggest Paralympic teams including Australia, New Zealand and South Africa will use Wales as a base ahead of the 2012 Games. This adds to the overall picture of Olympic and Paralympic activity in Wales during the forthcoming months
Put your comments and questions to Andrew on Twitter @AndrewJWeeks.