Brett Morse happy to face British rival Carl Myerscough
Last updated on .From the section Wales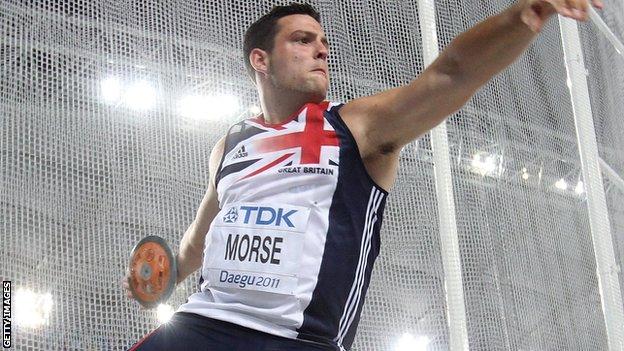 Welsh discus thrower Brett Morse says he is happy to compete against Carl Myerscough for an Olympic place.
Cardiff-born Morse, 23, is one of four discus contenders battling for three Team GB places.
"Hopefully I can just compete against him and beat him and it won't be a problem," said Morse.
"He [Myerscough] didn't take drugs knowingly, is what he states, so if that's the case then I think [a ban] it's quite unfair.
Myerscough, sprinter Dwain Chambers and cyclist David Millar have all been given the green light to compete for London 2012 after the Court of Arbitration for Sport (Cas) overturned the British Olympic Association's policy of lifetime bans.
Morse, Abdul Buhari and Lawrence Oyoke have already thrown the A qualifying standard and, along with Myerscough, will be aiming to confirm their Olympic places at trials in Birmingham this June.
"I really like Carl, I get on really well with him," said Morse, who has spent a month at a strength conditioning training camp in California.
"I'm actually really happy for him because obviously every athlete wants the opportunity to compete at the Olympic games and he's never had the chance to.
"Obviously rules are rules, and they knew these rules if they did take drugs. I have a feeling on both sides really."
Selection will go to the top two at the Birmingham trials, while one other thrower will be selected for the final place.
"I think it's quite exciting really," added Morse.
"If we're good enough to make the team then we should be good enough to do things when we're there."
Morse, who holds the Welsh national senior record and the British under-23 record, became the first Welsh athlete to win the discus at the UK Championships.
But the 23-year-old says competing in London would be the highlight of his short career.
"Every athlete wants to compete at a home Olympics but most of the time it's not possible so it would just mean everything to me," he said.
"All the training I've done over the years would have paid off if I can get there."