Coming up on Sport Wales: The TV programme
By Graham Thomas
Sport Wales reporter
Last updated on .From the section Wales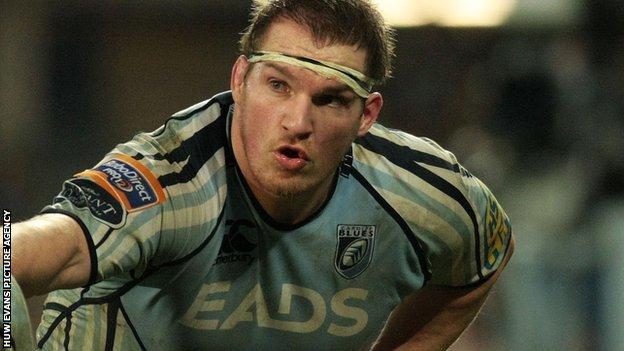 Welsh rugby will be losing a regional team at the end of this season.
This is not part of any grand solution to the structural problems within the game, but merely a statement of mathematical fact.
This week's Sport Wales has constructed an entire squad of players - one to 22 - who are leaving Welsh rugby at the end of the season to play elsewhere.
Most are Welsh. Most are internationals. All have played significant roles for the regions in the last few years and will be sorely missed.
They are departing because the grass is greener on the other side, whether that be French grass, English, Scottish, Irish or even the green grass of home back in the southern hemisphere. In contrast, it would appear Welsh grass has turned yellow and parched.
The programme examines not just the extent of this exodus, but the character of the game they will leave behind, the challenges faced by the regions and the WRU, and the plans being hatched to find a workable way ahead.
As the Union and the regions meet to discuss the in-depth report by accountancy firm PWC, we speak to those at the sharp end - players, coaches and administrators.
Liverpool Football Club have been through some turbulent changing times in recent seasons, with new owners, managerial changes and the usual churn among the playing squad.
For the past year a Welshman has been in charge of the club's academy, charged with the responsibility of finding the next Steven Gerrard and ten more like him.
Steve Cooper - son of former FIFA referee Keith - is the Anfield academy manager, the man Kenny Dalglish turns to when the manager wants to know whether he needs to spend £35m on a new striker or whether there is a home-grown one in the pipeline.
Ian Hunt has been to Liverpool to spend the day with Cooper, a former player at Wrexham and Bangor, to see how green youngsters are made red.
Liverpool's recent struggles in the Premier League no doubt provide food for thought for Cardiff City as they battle over two matches to overcome West Ham and reach the Championship play-off final.
We will have all the reaction to Thursday night's first leg in Cardiff, plus the thoughts of Bluebirds manager Malky Mackay as he reflects on a job half done.
In the studio alongside Jason Mohammad will be former Cardiff City striker Nathan Blake, together with John Hartson as the pair consider the Championship battle as well as Swansea City's penultimate match in their first season in the Premier League.
That game just happens to be at Old Trafford against Manchester United on Sunday afternoon, or "Super Sunday" if you work in live television.
And if it's super you're after then get ready for Darius Jokarzadeh. His profile may be smaller than some other Welsh athletes hoping to compete at London 2012, but everything else about him deserves to be spelt out in large print.
Darius is a 19-year-old weightlifter, born in Cardiff, of Iranian descent. He is 6ft 7in, weighs 26st, has size 17 feet, and tells him mum to stop only when she has cracked 18 eggs for his Sunday morning omelette.
Darius can lift 185kg above his head - that's 29st - and if he can add a few dozen eggs to that weight, then Big D will become a teenage Olympian. Lisa Rogers went to meet him.
Watch Sport Wales Friday, 4 May, BBC Two Wales, 1900 BST.