Coming up on Sport Wales: The TV programme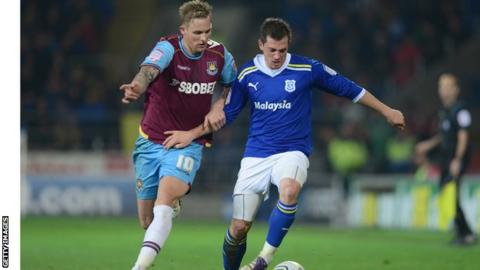 It's been a traumatising week for followers of Cardiff City, whichever way you look at it.
Defeat to West Ham made it third time unlucky for Malky Mackay's side in their quest to reach the Premier League via the play-offs.
Barely 24 hours later and heartbroken Cardiff supporters were being asked to contemplate something that, to most, had the ring of an elaborate hoax.
City's Malaysian owners proposed to rebrand the Championship club that would involve swapping blue shirts for red and their famous Bluebird emblem for a dragon.
In exchange, Mackay would receive a significant cash injection to improve the team and stadium and training facilities would be enhanced.
In the final show of the series, Sport Wales analyses the pros and cons of a plan which caused controversy.
City legends Phil Dwyer and Jason Perry - two men synonymous with blue-shirted images of City success - give their verdict and there's a critical viewpoint from former club director Simon Williams.
Providing a hard-nosed business perspective is marketing expert Robert Lloyd Griffiths, while Cardiff City Supporters Trust board member Keith Morgan speaks from the perspective of fans who probably thought they'd heard it all when former owner Sam Hammam once pledged to turn City into a kind of Welsh Barcelona.
It's been a year when that comparison has been applied to Swansea City, not in terms of the size of the club but the brand of football Brendan Rodgers' side has played throughout an astonishing first season in the Premier League.
Few bookmakers or pundits gave them much hope of extending their top-flight adventure beyond a single season - some predicted there was more chance of seeing Elvis Presley alive than Swansea avoiding an immediate return to the Championship.
Yet victory over Liverpool in their final match on Sunday could see them finish as high as 10th. No wonder Rodgers has asked as many supporters as possible to turn up to the Liberty Stadium in Elvis costumes.
Ahead of the visit of Kenny Dalglish's side, Ashley Williams joins Sport Wales for a reflective look back on a campaign that left many people's expectations all shook up.
Neither would you have got too many pundits tipping Newport County to end their campaign with a showpiece cup final.
But, 100 years into their history, the Exiles will grace Wembley for the first time on Saturday to face York City in the FA Trophy Final.
A remarkable story given they spent most of the season fighting relegation from the Blue Square Premier. After the grit comes the glamour.
Helping us look ahead to the big day is one man who knows all about that - former Liverpool favourite John Aldridge, who launched his career at Newport with a 70-goal haul in 170 appearances at Spytty Park from 1979-84.
Come July, the focus will be firmly on a different corner of London as the 2012 Olympics finally get underway.
But will Nicole Cooke - whose gold at the Beijing Games in 2008 placed her into a select group of Welsh Olympic champions - be given the chance to defend her Olympic title?
Cooke faces another anxious few weeks waiting to discover if she's made the squad for the British road racing team, her place by no means guaranteed after a fluctuating run of form.
In a frank an honest interview with Sport Wales, Cooke tells us why she's confident she will make it to a third successive Olympics. She also discusses the fallout from a row between her and potential GB team-mate Lizzie Armitstead, responds to criticism from British Cycling bosses and reveals how she was written off as "a fluke" when she started amassing cycling medals around 12 years ago.
Watch Sport Wales Friday, 11 May, BBC Two Wales, 1900 BST.