London 2012: GB triathlete Helen Jenkins embraces expectations
Last updated on .From the section Wales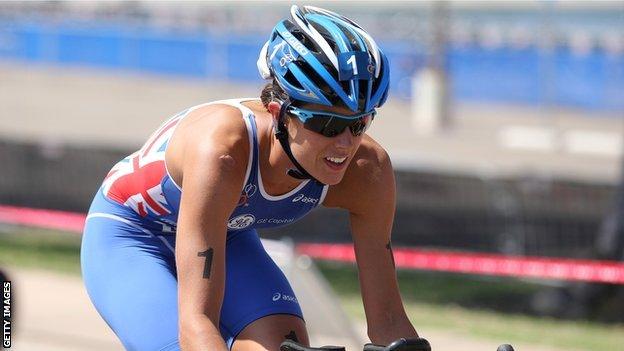 Helen Jenkins says she is ready to live up to the expectation of being favourite for the London Olympics.
"It definitely puts me up there [as favourite], doesn't it? I can't shy away from that one anymore," Jenkins told BBC Wales' The Back Page.
"It was a great race, I didn't expect to have such a good performance."
Jenkins is the 2008 and 2011 ITU world champion and she is top of the current overall rankings having placed second in this year's opening round in Sydney.
The win in San Diego, the second leg of this year's series, was achieved in fine style as Jenkins finished more than a minute ahead of Australian rival Erin Densham.
"My training had been going well so it was great to deliver on all the good training," Jenkins added.
Jenkins will sit out this weekend's Madrid leg of the World Series, which will be used by Team GB as a final qualifying event to finalise their three-strong teams for the Olympics.
Two places for London are up for grabs in the women's event alongside Jenkins, with one more man to be added alongside brothers Alistair and Jonny Brownlee.
Jenkins finished 21st at the 2008 Beijing Olympic Games but her performances over the past couple of seasons have ensured that she is tipped to take gold on 'home' turf.
"It's great to be considered a favourite in your home country, it's pretty exciting when you put it that way," Jenkins admitted.
"I still don't look at it as I'm the only one out there, there's so many other good girls that I have to beat and to do that I'm going to have to deliver an amazing performance on the day.
"I learnt a lot in Beijing and I'm definitely going into this Olympics with a very different mindset to the way I went into Beijing.
"I think going into the 2008 Olympics I was so pleased just to have qualified.
"I hadn't raced the whole of 2007 and just to have got there was such a big achievement, that by the time the Olympics came around I was almost a bit burnt out with the whole selection process as I'd been racing since January.
"But this time round in London I qualified last year, I've had a whole year to prepare for this and this is my one aim, my one peak for the year."
Listen to The Back Page on Saturday mornings on BBC Radio Wales at 08:30 BST