Lynn Davies believes Dai Greene is ready for Welsh greatness
Last updated on .From the section Wales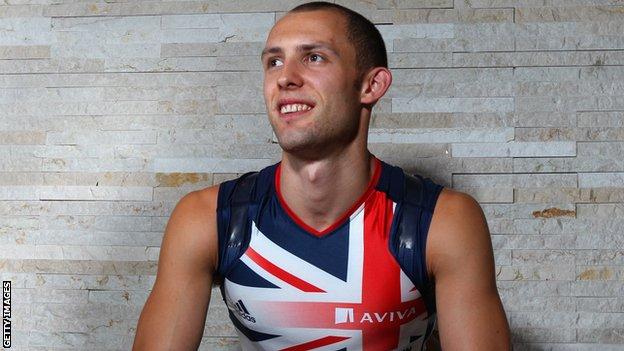 Lynn Davies believes hurdler Dai Greene will be Wales' greatest athlete if he wins Olympic gold at London 2012.
The 400m hurdles world champion is one of Great Britain's main hopes to win a gold medal at the 2012 Olympic Games.
Davies is convinced greatness awaits his fellow Welshman if he can complete a clean sweep of titles on the track.
"Dai Greene will be our greatest ever Welsh athlete," said Davies, who won the long-jump gold medal at the Tokyo Olympics in 1964.
Greene has won all the titles available to him - Commonwealth Games, European Championships and World Championships - with the Olympic title the only one missing from his impressive CV.
Greene has pulled out of the Diamond League meeting in Rome at the Stadio Olimpico on Thursday, 31 May after opening his season by finishing second in a race in Rabat in Morocco on Sunday in 48.96 seconds.
The Welshman was second behind former world and Olympic champion Felix Sanchez in the 400m hurdles with a time of 48.96 with fellow Briton Jack Green third in 49.45.
Davies competed in three Olympic Games - Tokyo, Mexico and Munich - and underlines the task facing Greene, but he is adamant that he can win gold.
"To win an Olympic title, when there are 205 nations taking part, you have to be super-human. You have to be superman," said Davies.
"Dai has won the Commonwealth Games, he is European champion, he is world champion - the Olympics would be the Grand Slam.
"Especially in his event, the 400m hurdles, which is very tough and is the 'man-killer' event of athletics.
"Dai is with the best coach in the world in Malcolm Arnold and he knows how to prepare and he has the confidence of being world champion
"I think he can do it, but the Olympic Games are a test of doing it on the day. That is the real test for Dai, but he is one of my favourites to win a gold."
But Davies has underlined the unique pressures facing Greene as he prepares to win an Olympic gold medal on his own doorstep.
"Dai faces two special pressures; he is the world champion, and the favourite and the one to beat, and added to that he has 80,000 people in that stadium shouting for him," said Davies.
"Luckily, I believe Dai Greene has the one important thing to cope with that pressure and that is a brilliant temperament.
"He can cope with pressure, he can control his nerves, especially in the 400m hurdles, where rhythm, timing and technique are so important.
"Dai is physically and mentally prepared to do that and I am keeping my fingers crossed that it will be his day."