London 2012: David Davies' Olympic Open Water blow
Last updated on .From the section Wales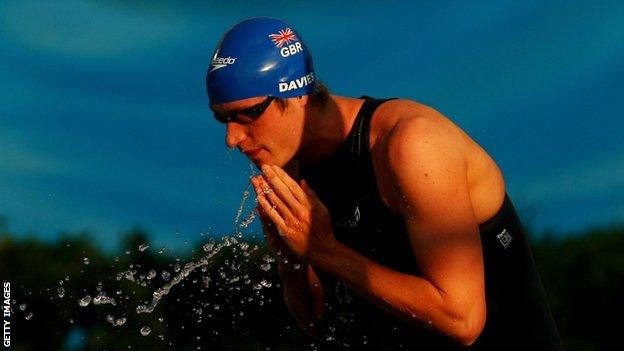 David Davies has suffered a setback in his hopes of improving on his 2008 Open Water Olympic silver medal in London.
Davies needed a top 10 finish or finish above rival Daniel Fogg in the FINA Olympic Marathon Swim qualifier to all but secure 2012 Olympic selection.
The Welshman finished 38th in Portugal on Sunday while Fogg's 35th place means he is in pole position to be named when the squad is announced on 20 July.
The 27-year-old, though, had already confirmed an Olympic spot in the 1500m.
Davies won bronze in his debut Olympics at Athens 2004 in the pool but now the Open Water is his preferred event after being runner-up at the 2008 Beijing Olympics.
With just one place available on Team GB for the 10km Marathon swim at the Olympics, Fogg has done his chances of selection no harm.
England's Commonwealth bronze medallist finished in one hour 49 minutes and 38 seconds, with Davies finishing in 38th place in a time of 1.50.04secs.
Both Brits were in the main pack for the first of six laps but by the second, the lead group broke away, leaving Fogg and Davies fighting for the top British spot.
Turning to start his final lap, Fogg pulled away from Davies taking a 17-second lead and held on down the stretch.
"That was a tough race," said Fogg.
"I didn't really get into my race rhythm and it felt hard throughout from start to finish.
"I couldn't respond to the pack when they made a break and I am disappointed with the final result.
"There will be different conditions in London, so if I get selected, I will hopefully get in and race better."
The duo must now wait as the British Development and Open Water Coach and the National Performance Director meet to decide who they will nominate to the British Olympic Association.
Davies added: "I knew that was going to be hard. I'm not really a fan of swimming in the sea and at times it felt like the whole sea was against me but I did my best.
"I kept seeing Dan in front of me but he got away. If he gets the spot in London, I'll be there cheering him on.
"I've still got the pool swim at my third Olympics and that will be my focus now."
Ous Mellouli of Tunisia dominated the race in Setubal, leading the 61-strong field home in a time of 1:45:18.5 seconds.
Canada's Richard Weinberger was second by more than 11 seconds, while Bulgaria's Petar Stoychev was third in 1:45:34.1.