London 2012: Natasha Perdue aims to emuate late father
Last updated on .From the section Wales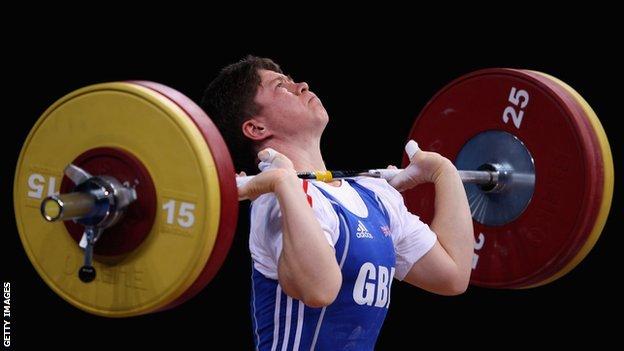 Weightlifter Natasha Perdue is ready to follow in her father's footsteps after securing her place at London 2012.
Perdue's father, Terry, represented Great Britain at the Mexico 1968 and Munch 1972 Olympics.
"It has made my day and I am sure it will make my mother's day," said Perdue, 36, of her Olympic selection. "That is what it was all for - my dad."
Swansea-born Perdue was a former national Karate champion before she switched to weightlifting.
Perdue believes her father, who finished 10th at both his Olympic appearances, would be proud of what she has achieved.
"It's a sad day really, because I am still in Leeds training, that I cannot go to the cemetery and tell him I will be at the Olympics," Perdue told BBC Wales Sport.
"I would love him to be here, just to see what he would say to me and what he would tell me to do over the next seven weeks.
"My first step was getting to the Olympics, the next is to the A group and my third step is to equal my dad and get ninth or 10th. It would make everything worthwhile."
Purdue has combined her full-time training regime with her day job at the refuse department of Leeds City Council in the build-up to the Games.
She will compete for GB in the women's 69kg category but admits she thought she had blown her chances after a disappointing performance at the recent British trials.
"I thought I wasn't going after that performance," said Purdue.
"I thought I was finished and that was the end of it. I was devastated and hit rock bottom, but now I have gone from the gutter to the sky again.
"It is massive, because you train and train to get to the Olympics and then you have a bad day and think it's not going to happen and it feels like the end of the world.
"Then, all of a sudden, you get a call and I am going. I cannot believe it."
Purdue is one of two Welsh weightlifters, including Gareth Evans, selected in the team of five athletes to represent Team GB in the weightlifting competition.
Evans, 26, has given up his job as a painter and decorator in Holyhead to pursue his Olympic dream. He now trains full-time at the Weightlifting Performance Centre in Leeds alongside Purdue.
Great Britain was allocated five slots for the Games, three male and two female, with lifters having to hit A or B standards at designated qualifying events to be considered for selection.