London 2012: My horrible Olympic secret - Jade Jones

By Jade Jones
London 2012 contender
Last updated on .From the section Wales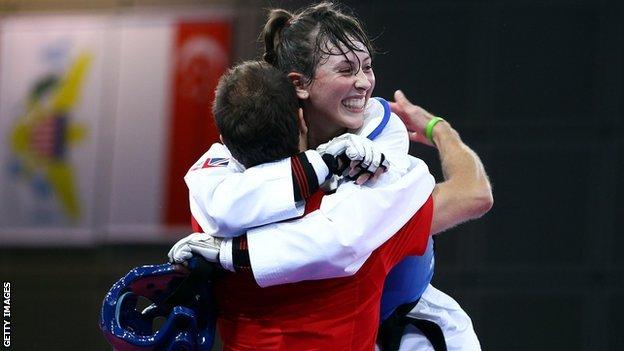 It was the news I had always dreamed of getting but I couldn't share it with anybody.
Well, I told my mum, Jane. I had to tell someone that I had achieved the goal I'd had since I started in taekwondo at the age of eight - I was going to my first Olympics.
All of the hard work, the dedication and the tears were worth it. Wow. I couldn't keep something that massive to myself.
But it was horrible not telling my dad, Gary.
I knew, though, it would have been hard for him not to tell anybody, it was painful enough for me, and he kept asking "when are you going to find out?" That was hard, I don't like lying.
And my poor grandad Martin. I knew I'd been picked in Team GB for London 2012 for two weeks before I could tell him.
Grandad is the reason why I'm a fighter. He is my inspiration behind me competing at the Olympics.
I grew up in Flint, a small town in north Wales, and there were no quality places to train so grandad drove me an hour to Manchester four times a week and the long trek to Cardiff on Sundays to give me the best chance of doing what I love.
He took me all over the country fighting and paid for everything so not telling grandad I was in the team was tough.
But my Olympic selection was confidential so it had to be done as I could get kicked off the team if it got out.
When the Olympic team was announced, grandad was the first person I told. I apologised for keeping the secret. He understood, as I knew he would, and was just chuffed I'd be going to London.
While it was hard for me to keep that big a secret, I bet it was even tougher for mum.
She wanted to do the proud parent thing and tell everyone that her little girl will be competing in a home Olympics, the event that the whole country is talking about and the focus of my life for what has seemed forever.
Mum works at Lovatt Butchers on the high street and people would always be asking her 'how is Jade getting on, is she going to the Olympics?' while they were buying their sausages.
It is bonkers because as I'm from such a small town, I'm kind of putting Flint on the map so everybody knows everybody and everybody wants to know how I doing, which is nice.
And without the people of the town, I probably wouldn't be at the Olympics.
You see the folk of Flint actually got me to the 2010 Junior Youth Olympic qualifiers because I didn't have the money. I needed £1,600 to go and the pubs and businesses in the town raised it all.
My gold medal at the Youth Olympics in Singapore put me in the limelight, it was a big stepping stone in my development. It was great experience as it showed the selectors I can cope with the pressure of a big tournament.
The people of Flint have always been supportive and have played a big part in my progression so I was keen to thank them and explain that their generosity was worth it.
The selflessness of the people of Flint epitomises the Olympics spirit so I was as much relieved as I was proud when news that I was in the Team GB taekwondo team became public knowledge.
But my Olympic journey has captivated Flint, it has made the town feel part of the London Olympics despite being hundreds of miles away.
My family have tickets but loads of locals have sent me texts and contacted me on Facebook to tell me they've got tickets to see me compete at the ExCeL Exhibition Centre. Even my old head teacher at Flint High School, Mrs McClean is coming, which is cool.
The squad announcement gave me a sense of 'Oh my God, this is real, this is happening' and I can't wait.
I was thinking about the Olympic opening ceremony earlier and I've made it a big thing in my head but I don't think I fully understand how big it will be.
What also brings it into sharp focus is that I normally train on a flat taekwondo mat. But we've installed an Olympics raised ring in our gym now so we get used to competing on them. I even get nervous seeing that ring in training - and no-one is watching.
Training is getting harder and we call this stage variation training where sparring partners fly in from all over the world to prepare us for 8 August.
We'll soon slip into competition phase and taper training down for the Olympics. Blimey it is that close.
Jade Jones was talking to BBC Sport's Pete Shuttleworth