Jade Jones: Lutalo Muhammad faces 'double' the pressure
Last updated on .From the section Wales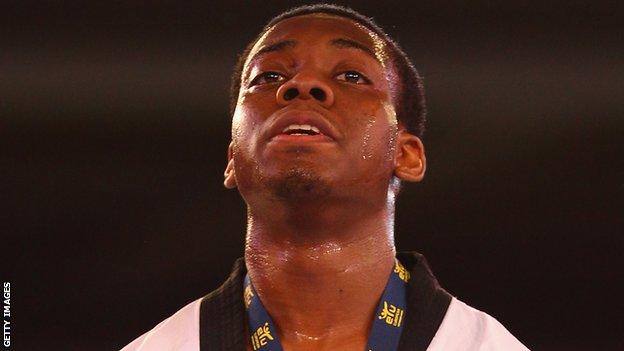 Olympic medal hopeful Jade Jones has admitted her sympathy for team-mate Lutalo Muhammad after being caught in the crossfire of the Aaron Cook saga.
Muhammad was nominated by GB Taekwondo to represent Team GB at London 2012 in the -80kg category ahead of world number one Cook.
"It will be hard for Lutalo," said British women's -57kg number one Jones.
"Even though he has been picked, there is now double the amount of pressure on him to do well and it wasn't needed.
Muhammad is 59th in the world and the sport's international governing body is to review Cook's Olympic omission.
Jones added: "I don't think it is fair that GB taekwondo is getting so much stick but no-one realises, they just jump on the bandwagon.
"People are concentrating on the bad things and not that GB taekwondo made history this year by getting their most amount of medals at a Europeans and we're clearly getting bigger and better.
"It has been quite hard as we're all buzzing because we have all been picked but there is more focus on the person that hasn't being picked.
"It has had some bad publicity but at least it is getting taekwondo known more, so it might be a blessing in disguise."
The World Taekwondo Federation will hold a review into British Taekwondo's selection process for London 2012, although the WTF does not have the power to change the decision.
"I feel sympathy for Aaron as he is an amazing fighter," added European bronze medallist Jones.
"And it is hard that only one person can go but it is tough sport. But there is nothing Lutalo can do, he needs to keep his head down and just do his best."