London 2012: Jabs and jokes pave Welsh boxers' Olympic path
By Steffan Garrero
BBC Wales Sport
Last updated on .From the section Wales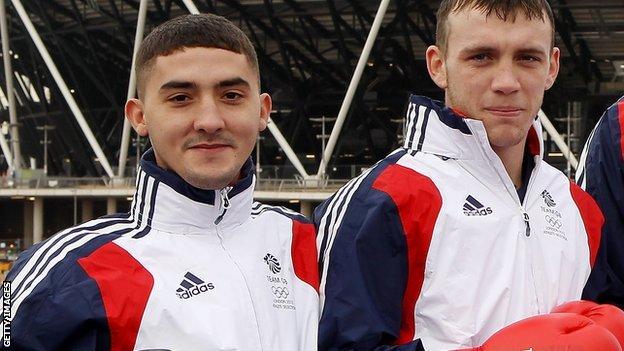 Andrew Selby and Fred Evans, the two Welsh boxers representing Great Britain at this summer's Olympic Games, are a real double act.
As the media assembles around the three rings which dominate the GB boxing headquarters at the English Institute of Sport in Sheffield, both Welshmen taunt super-heavyweight Anthony Joshua as he tries to squeeze his huge frame into a tracksuit designed for a far smaller man.
There is an air of camaraderie and levity surrounding the British boxing squad which comes from the successes experienced over the past 12 months.
Seven men and three women have qualified for the Games, and at least seven are considered genuine medal prospects.
"The two Welsh boys are right up there in their weight divisions," says GB head coach Rob McCracken. "They need to make sure they focus fully and there's no reason why Fred and Andrew can't come away with medals."
Selby confides that "I hate doing tv interviews" as we set up to film the pair for a Sport Wales Olympic special. "I'm no good at it, I get nervous. Can we do it together?"
Inseparable outside of the ring, the two have survived several cutbacks which have seen other talented boxers fall by the wayside during the past four years.
They are the first boxers from Wales to make an Olympic squad since 1984. Only one Welsh boxer has ever won a medal at the games.
A photo of Ralph Evans in action at the Munich games in 1972 adorns the gym wall, along with snaps of all the British medal winners over the years - inspiration for those setting their sights high.
"I was out in Beijing when [James] De Gale won his gold," says Evans, a welterweight ranked third in the world.
"Team GB flew me out there to experience an Olympics so I wouldn't feel too nervous this time. I think it'll work... although looking at the media today, wearing these new tracksuits, makes it all feel very real."
The four years in Sheffield have seen Selby and Evans develop as boxers, culminating in both being crowned European champions and Selby winning a silver medal at the World Championships last year.
Physically they have advanced as well. The experimental, jawline-hugging beards are just the outward signs of maturity. Selby, 23, no longer fluctuates in weight; a sit-down ultimatum from McCracken in 2010 saw to that.
Evans, two years younger than his compatriot, learned at the World Championships that greater focus is needed.
"I switched off after I made the quarter-finals," he says shaking his head. "I made the Olympics and then got beaten because I lost my focus... I could have won a medal... I won't let that happen in London."
It is Selby's turn to jump in now: "We're both in tough weight divisions, I'm in the flyweight and I need to get a good draw even though I'm number two in the world."
A smile broadens across coach McCracken's face as he recounts a story which he feels best sums up the pair.
"They've both come on so much as boxers, but they're still the same kids from south Wales who were so nervous up here on their first day," he said.
"When we got back from Azerbaijan after the World Championships and I was driving home from the airport, I looked over to the hard shoulder and there were the pair of them walking up the road carrying a petrol can... two Olympians and an empty fuel tank..."
The face pulling and joking continues as each member of the team has their official portrait photograph taken.
"I think that was my best interview so far," grins Selby, "though I almost passed out three times..."
Evans chirps in: "Just as well you're getting the hang of it, I think this is only going to get bigger if we do well in London."
Understated and dealing with the expectations involved in trying to be the first Welshmen to become Olympic boxing champions.
And with their potential finals only hours apart you would not bet against them both doing it on the same day together.