Geraint Thomas hopes Lance Armstrong clears name
Last updated on .From the section Wales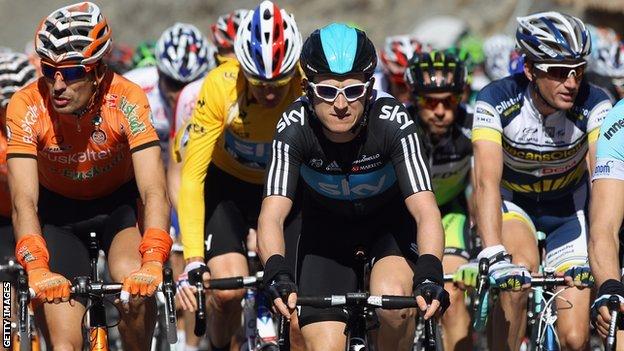 Geraint Thomas hopes seven-time Tour de France winner Lance Armstrong clears his name of doping allegations to protect cycling from further damage to its reputation.
The US Anti-doping Agency (USADA) has charged Armstrong with a series of offences, allegations Armstrong has described as "baseless".
"It's bad for the whole sport really," Thomas told BBC Radio Wales.
He added that the sport had a "dodgy past" but had "improved massively".
"The main thing is the sport is getting dragged though the mud again and it definitely has a dodgy past," Thomas said.
"Back in the day it wasn't a very good sport on that front, but in the last decade or so it has improved massively and I think it is moving in the right direction.
"But [Armstrong] is such an iconic figure in cycling that whenever he gets dragged through the mud the whole of the sport does.
"He has had numerous allegations thrown at him through the years but hopefully he hasn't done anything wrong. Hopefully people can let it go."
Thomas, who has been selected for the GB track team pursuit cycling team at London 2012, added he does not want the Armstrong case to be dragged out unnecessarily.
"Hopefully [the USADA] will come to a decision quickly and it won't get dragged out for the next few months," said Thomas, who was the youngest rider at the 2007 Tour de France.
The allegations against Armstrong include previously unpublicised claims of doping in 2009 and 2010, reports say.
The 40-year-old has been immediately banned from competing in triathlons, a sport he took up after his retirement from cycling in 2011.
"I have never doped," Armstrong said in a statement on his website.
"These charges are baseless [and] motivated by spite."
In its 15-page letter, USADA said its investigation included evidence dating back to 1996 and accused Armstrong of a "pervasive pattern of doping" over many years.
It says it collected blood samples from him in 2009 and 2010 that were "fully consistent with blood manipu­la­tion including EPO use and/or blood transfusions".