London 2012: Nicole Cooke secures Olympic selection
Last updated on .From the section Olympics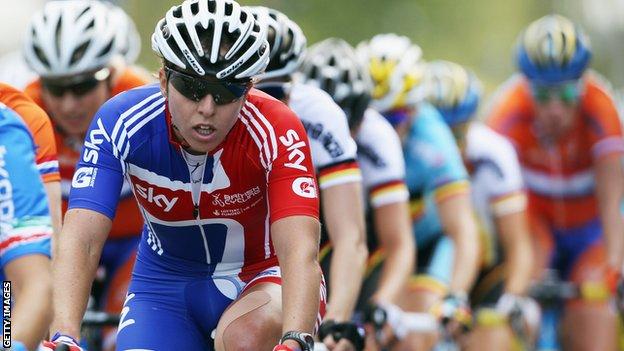 Defending champion Nicole Cooke has survived the cut to secure a place in Great Britain's team for the women's road race at London 2012.
Katie Colclough and Sharon Laws have been dropped from the initial squad of six that was named last week.
"I am honoured to be representing Team GB at the 2012 Olympic Games," said 29-year-old Cooke.
Despite making the team, Welsh star Cooke is likely to be asked to sacrifice her own gold medal ambition to be a support rider.
British number one Armitstead is expected to be the team leader in the race, with the other three team members expected to ensure she is given the best opportunity possible to claim gold.
Cooke has already indicated she is willing to accept that role - known in cycling as a 'domestique' - while also retaining an ambition to be the team leader and therefore be given an opportunity to defend her title on home soil.
She has struggled to recapture the form that took her to the top of the world rankings but strong performances between now and the Olympics could see her reinstated as Britain's number one.
A decision on who will be the team leader will not be taken until closer to the race itself, which takes place on Sunday, 29 July.
"I'll be doing everything I can to deliver a gold medal for our team," Cooke added. "We have a set of riders with real potential and I am looking forward to playing my part in delivering that gold."
Dave Brailsford, the Team GB cycling team leader and British Cycling performance director added: "We believe that the four riders we have selected will give us the best opportunity of winning the race."
Cooke and Armitstead have been battling for the number one spot for the past couple of years, but the rivalry turned sour at the 2011 World Championships in Copenhagen.
Armitstead, the team leader, accused Cooke of "riding for herself" after a crash late in the race separated the pair.
Cooke set off for the finishing line, eventually finishing fourth. Armitstead was furious that her team-mate had not waited for her to help her back to the front of the pack.
The pair patched up their differences earlier this year and they are now vying for the number one spot.
Brailsford said the past fall-out between Cooke and Armitstead will be of no significance when the final selection is made.
"It goes without saying you don't bring personal issues and personalities into a team like that," he said.
"She's returning to form, she's a fantastic competitor, we know that."
Cooke will be hoping to put down a marker with a strong showing at the National Championships in York on Sunday and then at the two-week Giro d'Italia (29 June-7 July).