London 2012: Jazz Carlin spurred for Olympic push
Last updated on .From the section Wales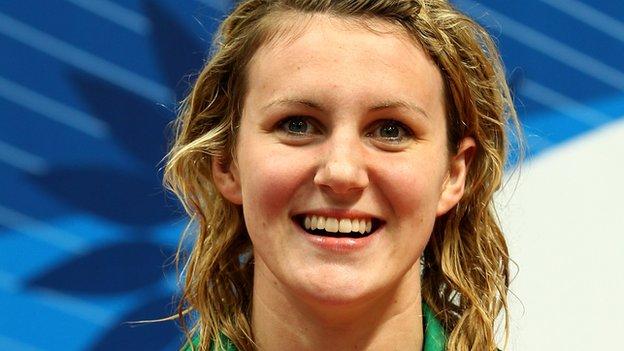 Jazz Carlin has revealed fellow Welsh swimmers Georgia Davies and Jemma Lowe are the spur behind her Olympic bid.
The 21-year-old failed to qualify in her favoured 400m freestyle event in March's trials before withdrawing from the 800m final because of illness.
Davies and Lowe have been selected by Team GB for London 2012 and Carlin's final Olympic qualifying chance in the 200m is at the National Championships.
"I don't see it as pressure - I see it as motivation," said Carlin.
"It's always nice when you've got the support of your team-mates spurring you on in training.
"In March it was a huge disappointment for me but I was so happy for the girls to have made it."
The double Commonwealth medalist won bronze in the 400m freestyle at Delhi 2010 but went one better and claimed silver in the 200m freestyle in a Welsh record time despite Carlin preferring the 400m.
Carlin found it hard to get over the disappointment of falling to qualify during the London trials in March but she has one last chance to qualify in the 200m in Sheffield this week.
"I managed to get back in the pool right after trials even though my head wasn't in the right place," said Carlin.
"I was still getting in and doing the training but it took me a good couple of weeks.
"My friends and family were there for me and trying to pick me up but I had to be the one that picked up the pieces.
"I do feel stronger for doing it. I feel like I've come out the other side and I just feel 100 per cent healthier and 100 per cent better in myself.
"I've done everything that I possibly can. I'll go out there with my head held high and knowing that I couldn't have done anything more.
"My coach is happy with how things are going so I've just got to hope that pays off."
The Swansea-based swimmer is also hoping to qualify for an Olympic relay place at Ponds Forge so she can improve on her 2009 world and 2010 European 4x200m freestyle bronze medals.
If Carling does qualify, she will join fellow Welsh swimmers Davies, Lowe, David Davies and Ieuan Lloyd in the British Swimming team for London 2012.