London 2012: GB rowing's small man Bartley harbours big hopes

By Steffan Garrero
BBC Wales Sport
Last updated on .From the section Wales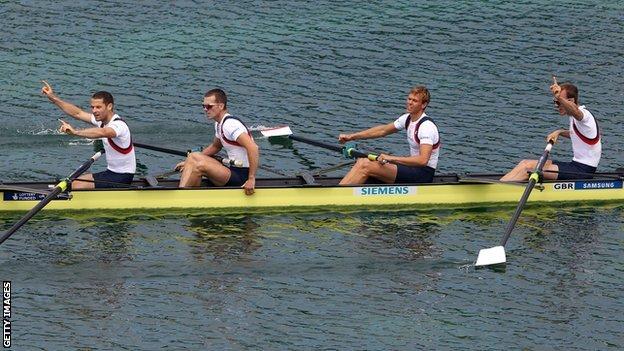 Chris Bartley is a name you may not yet know. He is the other Welshmen in the British rowing team, and he rows in the other coxless four crew.
Yet Bartley is every bit as large a gold medal prospect as his more famous colleague Tom James, even if physically he is a far smaller man. The maximum weight for a lightweight rower is 72.5kg or 11st 5lb.
Bartley is part of the successful GB lightweight coxless men's four who will enter the Olympic regatta having finished on the podium in each of the three World Cup events this season. The culmination of their efforts was a gold medal at the final of the three in Munich.
"Winning by just over two seconds is a pretty big victory in lightweight rowing, we were pretty surprised to be honest, but it's something we've been trying to do for a while," says Bartley, who is all smiles as he and his crew-mates circulate the media room at the Team GB preparation camp in Loughborough.
Their faces are akin to that of Augustus Gloop at Willy Wonka's Chocolate Factory - although in anticipation of gold medals rather than golden tickets - as they load up bags with Olympic competition kit and suits for the opening and closing ceremonies.
"We've been looking forward to this for quite some time," Bartley lights up, "it's so exciting to get the kit that we're actually going to wear in the village and when we're competing... so excited... it's so cool!"
Bartley's rowing career began just over the English border from his home town of Wrexham at King's School in Chester.
He was in the same year as James but did not have the natural assets. A 5ft 8in frame meant a lot of hard work was needed to get to where he is today.
"If you'd ever asked me at any point during my rowing career, I wouldn't have said I was a candidate to go to the Olympic Games," he ponders.
"But I guess I must have done something right over the past four years. I knew where I was and where I needed to get to... hopefully I'll get there in five weeks."
The victory by Peter Chambers, Richard Chambers, Rob Williams and Bartley in Munich was impressive, but the Welshman is quick to point out that two of their major competitors for top spot in Eton Dorney later in the summer were not in Germany.
"We were missing the Chinese and the South Africans who both beat us last month in Lucerne [at the previous World Cup event], so I think we'll head to London with our confidence increased, but importantly we won't be too confident," Bartley said.
As soon as he returns home Bartley tweets a photo of himself posing in his competition Lycra and sweatbands.
Days like this are a rarity in the build-up to the Olympics. They are to be savoured and treasured after all of the sacrifices taken to get to this point, but they will mean little if ultimate success is not achieved in August.