Rhys Williams makes 2012 Games grade
Last updated on .From the section Wales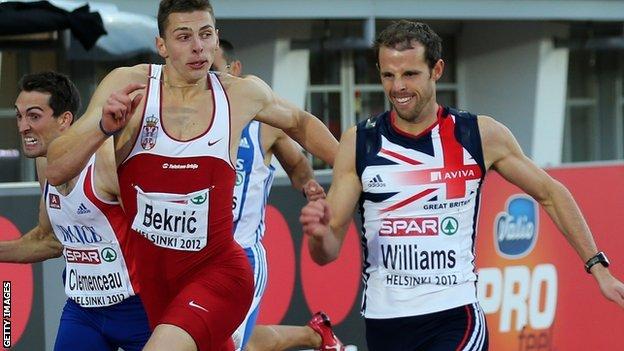 Welshman Rhys Williams gave his 2012 London Olympics a massive boost after winning the European Championships' 400m hurdles crown in Helsinki.
He powered away from the rest of the field in the final straight.
And in doing so he seems likely to join Wales' World champion Dai Greene and Jack Green at the London Games.
Williams eased down in the semi to miss out on the second 'A' standard of 49.50 and believed it would come in the final.
With fellow GB contender Nathan Woodward also on the start line, Williams was under no illusions as to the task that awaited him.
But he rose to the challenge in Greene and Green's absences.
Greene and his training partner Green booked their Olympic places in the 400m hurdles at last weekend's trials in Birmingham, where Williams fell at the penultimate hurdle in the final.
Williams won silver behind Greene at the 2010 European Championships.
Another Welsman, Gareth Warburton, finished last in his semi-final of the 800m making him an outsider for Olympic selection.
That was after Warburton, fourth in the 2010 Commonwealth Games, had won his heat in one minute 45.80 seconds.
The 30-year-old has run the 'A' standard but finished fourth in the British Olympic trial so must rely on the selectors if he is to picked alongside Andrew Osagie.
Cardiff Discus thrower Brett Morse, 23, fell out of European contention, damaging his London 2012 hopes.
Morse recorded a season's best 62.27 metres to finish second in the discus final at the trials in Birmingham. He has until 1 July to throw the Olympic qualifying standard of 65.00 metres to guarantee his place in the team.
Pole Vaulter Sally Peake, who finished joint-second at the Olympic trials on the weekend, failed to reach the final in Helsinki and again failed to reach the qualifying standard of 4.50m.
FULL GB EUROPEAN SQUAD:
Men
100m: Harry Aikines-Aryeetey, Mark Lewis-Francis
200m: Chris Clarke, Danny Talbot
400m: Richard Buck, Luke Lennon Ford
800m: Mukhtar Mohammed, Gareth Warburton
1500m: James Brewer, Tom Lancashire
5000m: Mo Farah, Rory Fraser, Mitch Goose
10,000m: Keith Gerrard, James Walsh
3000m steeplechase: Luke Gunn, Rob Mullett, James Wilkinson
110m hurdles: Richard Alleyne, Gianni Frankis, William Sharman
400m hurdles: Rhys Williams, Nathan Woodward, Rick Yates
High jump: Robbie Grabarz, Samson Oni, Tom Parsons
Pole vault: Luke Cutts, Max Eaves, Andrew Sutcliffe
Long jump: JJ Jegede, Julian Reid, Chris Tomlinson
Triple jump: Larry Achike
Shot put: Carl Myerscough
Discus throw: Abdul Buhari, Brett Morse, Lawrence Okoye
Hammer throw: Mark Dry
Decathlon: Ashley Bryant
4x100m: Aikines-Aryeetey, Dwain Chambers, Tyrone Edgar, James Ellington, Christian Malcolm, Danny Talbot
4x400m: Buck, Michael Bingham, Lennon Ford, Nigel Levine, Rob Tobin, Conrad Williams
Women
100m: Jeanette Kwakye, Ashleigh Nelson,
200m: Abi Oyepitan,
400m: Lee McConnell, Kelly Massey, Nicola Sanders
800m: Jenny Meadows, Lynsey Sharp, Jemma Simpson
1500m: Charlene Thomas
5000m: Julia Bleasdale, Helen Clitheroe, Stephanie Twell
10,000m: Jo Pavey, Charlotte Purdue, Gemma Steel
3000m steeplechase: Hatti Archer
400m hurdles: Meghan Beesley
High jump: Isobel Pooley
Pole vault: Sally Peake
Long jump: Abigail Irozuru, Shara Proctor
Shot put: Eden Francis
Discus throw: Francis, Jade Nicholls
Hammer throw: Sophie Hitchon, Sarah Holt
Javelin throw: Goldie Sayers, Laura Whittingham
4x100m: Montell Douglas, Hayley Jones, Kwakye, Nelson, Anyika Onuora
4x400m: Eilidh Child, Shana Cox, Massey, McConnell, Christine Ohuruogu, Sanders