London 2012: Rhys Williams confident of Olympic selection
Last updated on .From the section Wales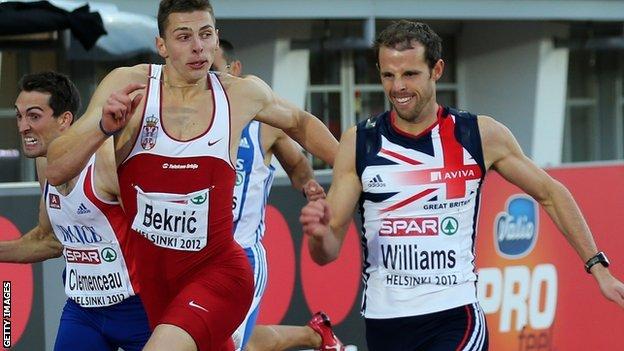 Rhys Williams is confident his European Championships win will be enough to earn him a place at the Olympics.
Williams ran the Olympic 'A' qualifying standard again, clocking 49.33 seconds, to take the 400m hurdles title but must wait for Tuesday's squad announcement.
The Welshman had fallen in the British trials but hopes to join world champion Dai Greene and Jack Green in the British 400m hurdles team at London.
"I hope I've done enough to get in that team," said Williams.
"I knew I could win that race and it was my race to lose. There was a bit of pressure but we all love a bit of pressure don't we?
"That's where you find your true form when the chips are down. I had no choice really. It was either fight or flight.
"Obviously I had a bit of bad luck last week at the British Championships so I hope this is a good way to answer back."
The European Championships were Williams' last chance of securing his place at the Olympics after the 28-year-old fell at the penultimate hurdle in the 400m final in June's trials in Birmingham.
Rival Nathan Woodward, who had also run the required standard, finished third behind Greene and Green in Birmingham.
But Williams, who missed the 2008 Beijing Olympics because of a foot injury, is now hoping for his first Olympics following his win in Helsinki when rival Woodward finished seventh in Friday's final.
Compatriots Greene, the world and Commonwealth champion, and 200m sprinter Christian Malcolm will be confirmed in Team GB's athletics squad when it is announced on Tuesday after finishing in the top two in the trials.
Williams and 800m runner Gareth Warburton have both run the Olympic 'A' standard so hope for a discretionary place, while discuss thrower Brett Morse is also hoping for an Olympic chance.
And Williams, son of Welsh rugby legend JJ Williams, insists: "I'm adamant I can get faster, which I need to get into that [Olympic] final.
"Of course it's fantastic being there [at the Olympics] but no athlete just wants to be there to make up the numbers.
"If you're not really going in there fighting to get in these finals [and] getting medals then there's no point you being there.
"You're a competitor and you've got to show that."