London 2012: Rower Tom James may retire after Olympics
Last updated on .From the section Wales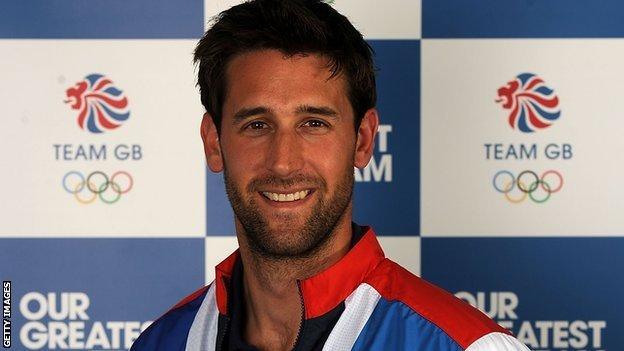 Defending Olympic champion Tom James has admitted he may retire from rowing after the 2012 London Games.
But 2011 World Championship James and World Cup winner James, an engineering graduate from Cambridge, may quit the sport to start a new profession.
"It might be time to look at other things in my life," admitted James.
"But we'll see. I'd never say never.
"I said after Beijing that's it, I'm not doing that again!
"Then I thought it is the London Olympics and I was just 24 and still have time to move to another career when I do finish rowing.
"There's plenty of opportunities that come out of rowing and I met some fantastic people after Beijing who are interested in you as an individual and I'm sure that will also be the case after London."
The Wrexham rower, who made his Olympic debut in the eight-man boat at the 2004 Athens Olympics, is one of the experienced members of the British rowing squad.
James after taking a year off following Beijing before suffering a back injury that kept him out for most of 2010.
He also discovered in January that he , which causes an abnormal heart rhythm.
But James has secured his place in Team GB as he bids to become the first Welsh athlete to win gold medals in back-to-back Olympics since equestrian rider Richard Meade in 1968 and 1972.
"It is a different ball game compared to Beijing as there's an expectation and it does put a different sort of pressure on you," said James.
"Steve Williams was the only gold medallist in our boat going into Beijing and he brought a certain experience of what it is like to win an Olympic final.
"That experience is invaluable. I feel an advantage having won at Beijing going into the next Olympics even if it does bring a certain amount of expectation.
"I did get overwhelmed in Athens. I was only 19 or 20 and we felt a lot of expectation and there was the pressure which I put on myself.
"The big lesson I found going into Beijing was to not take it so seriously and not get caught up in the moment, it you're excited you do not perform as well as you would if you're relaxed.
"I'll enjoy London and take it as it comes - there is pressure but that is a good thing if you use it right."