London 2012: Dai Greene success spurs Rhys Williams for Olympics
Last updated on .From the section Wales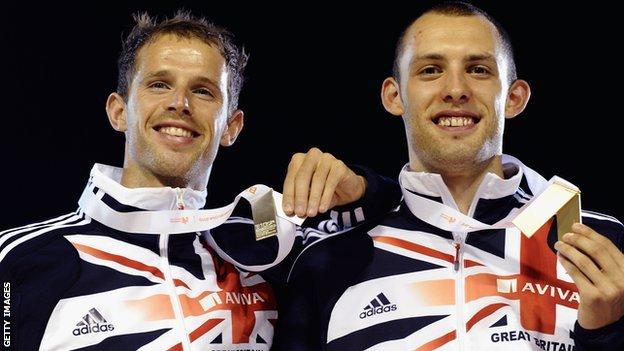 Rhys Williams feels the example of rival Welsh 400m hurdler Dai Greene can spur him to success in the Olympics.
Williams was named in Great Britain's squad for London 2012 after winning the European title in Finland last weekend.
The 28-year-old fell in the Olympic trials but ran the Olympic 'A' qualifying standard in Helsinki to join world champion Greene in London.
"He has improved massively but I know for a fact he's no more talented than myself," insisted Williams.
"It has always been a case of 'well if he can do it, I know that I can do it'.
"It's been a tough one because obviously he's [Greene] run exceptionally well.
"Usually your biggest rivals, the world champions, aren't usually guys from your doorstep
Greene won gold at the 2010 Commonwealth Games and European Championships, then followed that up by taking the world title in Daegu the following year.
His personal best of 47.84 seconds is just short of the 47.82 set by British record holder Kriss Akabusi at the 1992 Barcelona Olympics, but well clear of Williams' 48.96 mark.
"So I see it as nothing but a positive. He has done exceptionally well so I've got to do the same," Williams added.
"I'm adamant I can get another yard of speed. I did five races in a week and my fastest time came on that fifth race.
"So I know I can run a lot quicker than my personal best suggests. I honestly think I can run a yard faster in the next four weeks of good training, which is good enough to make that final.
"I know I can do it, so I've just got to do it."
Williams missed the 2008 Beijing Olympics because of a foot injury and the son of Welsh rugby legend JJ Williams admits his overwhelming feeling was of relief after being selected for Team GB.
He will contest the 400m hurdles in London alongside Greene and and Jack Green.
"To sum it up, relieved... happy to be in that team," Williams said.
"I missed the Olympics four years ago. The Olympics is the only championship I haven't been to.
"I don't just want to be in that team, I want to be one of the athletes who do well so it's all go now.
"I'm adamant how good I can be, I know how good I can be which is good enough to win medals.
"But you've got to do it and it's frustrating when you don't achieve what you set out to achieve.
"Everyone trains hard, I train very hard so you just want to get what you deserve."