London 2012: Tom James follows Welsh Olympic rowing greats
Last updated on .From the section Wales
In Beijing 2008, as part of Great Britain's coxless fours, Tom James won Wales' fifth Olympic rowing medal.
That continued a line of success stretching back a century to 1908 when Sir Albert Gladstone struck gold at the Olympic Games in London.
The Olympics of course return to London this year, with James, Andy Hodge, Peter Reed and Alex Gregory - replacing Steve Williams from the 2008 four - seeking to defend their title.
The venue for the 2012 rowing will be Eton Dorney, on the doorstep of the famous public school that has helped produce so many rowers and one of Wales' finest.
When Sir Albert - the grandson of four-time British prime minister William Gladstone - was part of the men's eight that claimed gold in 1908, organised international sport was still in its infancy.
The London Games were just the fourth official modern Olympiad and the concepts of fair play and elite amateurism held sway as Sir Albert's nephew, Sir William Gladstone, remembers.
"There was certainly quite a rowing dynasty, they went to a house in Eton where rowing was very popular and that's where the success of my uncle Albert and my father began," Sir William recalled for the BBC Wales Sport series Wales at the Olympics.
"It was part of the Victorian ideal of sportsmanship: the amateur spirit; never cheating or trying to bend the rules or anything like that.
"And indeed the Leander crews [of which the men's eight was picked en-masse to represent Britain in 1908] never practised for more than three weeks.
"They were immensely fit men, they came together three weeks before the regatta because it was thought that anything more than that would stink of professionalism."
However, Sir William reveals that following a surprise win at the Henley Regatta by a Belgian crew, the British eight trained "right through the summer" of 1908 in preparation for the forthcoming Olympics.
Their efforts bore fruit as Britain claimed gold on home water, routing Belgium in the final.
That may have been what eventually led to today's professional athletes' cycle of preparation for the next Olympics beginning almost as soon as one has finished.
James is hardly surprised the will to win has always been the driving force, but agrees with his forerunners that winning is not everything.
"I'd hope people from years ago would see rowing in pretty much the same light," James said.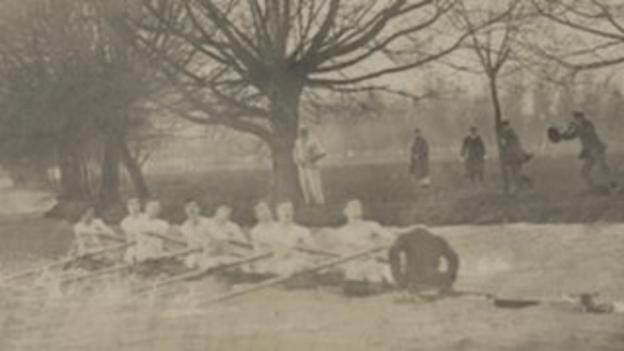 "It's the same sport, you win races in exactly the same way. There's a big technical element and obviously you've got to have a big engine [physical strength] to move the boat.
"Things have moved on technologically. I don't think they had carbon fibre around 100 years ago!
"But the whole difference between amateurism and professionalism is one thing that would have changed.
"Deep down, underneath what you do, when you come up to racing the winning is what you're trying to do. That's the goal.
"But you've got to be realistic that when you're competing in an event you don't know the outcome and there are so many more reasons for doing it... it will be an amazing Games."
Welsh hopes at London 2012 will also be carried by Chris Bartley in the men's lightweight coxless four and Vicky Thornley in the women's eight.
They will seek to join the rowing roll of honour that began with Sir Albert, at the moment ends with James and also includes double gold medallist Hugh Edwards and Charles Wiggin, who won bronze in the coxless pairs at the 1980 Moscow Games.
Edwards, who like Sir Albert was the son of a vicar and attended university at Christ Church, Oxford University, triumphed in the coxless pairs and coxless fours at the 1932 Los Angeles Games.
Nicknamed 'Jumbo', Edwards was as big a character as his name suggests - leaving Oxford after failing his exams but returning to complete his degree as an avenue to joining the Royal Air Force, with which he served with distinction as a bomber pilot during World War II.
Edwards was only meant to contest the coxless pairs in America, but stepped in to claim a second Olympic gold medal when one of the fours fell ill.
Born in Oxfordshire, Edwards represented England and not Wales in the 1930 Empire Games - the forerunner of the Commonwealth Games - in Canada.
But Wales claims 'Jumbo' as one of its own, with his father being the Welsh-speaking vicar of Westcott Barton parish and Edwards coaching the Wales four containing his two sons, David and John, to a silver medal at the 1962 Commonwealth Games in Perth, Australia.
"He always complained because I didn't like wearing socks in the boat and because he thought my hair was too long - 'how can you go fast if you've got hair that long'," David Edwards recalled of his father, who also coached Oxford and Great Britain.
"When I was looking out some photos recently, I came across a picture of the 1932 Olympic four and Jumbo is in what appears to be either Oxford or Christchurch kit without any socks on!"
The achievements of the past will be held up as shining examples as Britain reaches fever pitch for the first return of the Olympics here since 1948.
But while James feels the weight of history and expectation, the Cambridge University product promises that he and his fellow rowers will keep calm and carry on in pursuit of the ultimate prize.
"You've got to be focused on beating your opposition, that's what the job's about - about rowing a really good strong race, a confident race," James said.
"Those elements of being over-excited, overwhelmed, don't fit in that mentality, so if anything I think I've learnt that I've got to enjoy London and enjoy the experience leading up to it but take it as it comes.
"Of course there will be a lot of expectation, but I put enough expectation and pressure on myself than the rest of the country.
"Nerves and pressure are a good thing if you use them right."