London 2012: Team GB captain Dai Greene ready for Olympic bid
Last updated on .From the section Wales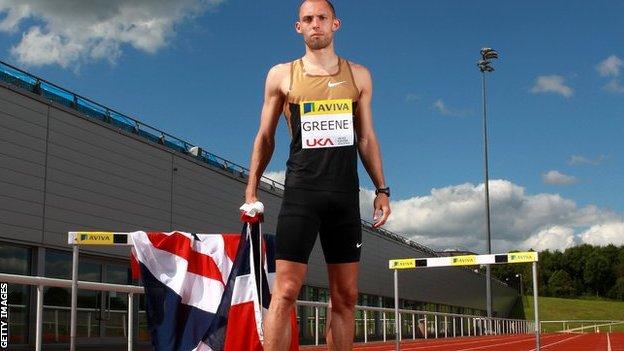 Dai Greene is convinced he is peaking at the perfect time for his bid to win the 400m hurdles gold medal at London 2012.
Greene has seen his training and his preparation for the Games blighted with injury and a virus.
"I think I am a little bit stronger than I was this time last year," said the 26-year-old.
"I have certainly run four tenths of second faster than last year, so I am very happy with the shape I am in.
"I have had a tough winter to get myself ready for it, but it is all coming together at the right time."
The 26-year-old, who will run at the London Grand Prix at Crystal Palace on Friday, erased any doubts about his fitness after a knee operation over the winter.
He has dismissed concerns that his injury and a virus will undermine his bid to complete an individual Grand Slam of World Championships, European Championships, Commonwealth Games and Olympic titles.
"I wasn't too concerned because I have a great coach and I have done well over the last few seasons and I know the formula for success," said Greene.
"I wasn't too worried and just wanted to knuckle down and get on with things. I knew I would come right when it matters most.
"My run in Paris showed that and, hopefully, I can go one better in London in a few weeks time."
Greene is one of the GB athletes who are expected to bring home a gold medal when he runs in the 400 metres hurdles.
He will lead a home team which has been set a target of eight medals in the athletics and one of the strongest GB track and field teams.
"I think it's one of our best teams in a long time," said Greene. "I think we've been getting steadily better in hitting our medal targets."
The reigning world and Commonwealth champion did not hide his pride about being named as the GB Athletics team skipper and following in the footsteps of fellow Welshman Christian Malcolm.
"It was something I really wanted to do having done it last year at the European Team Championships and I'm training and competing very well, which makes it a lot easier as well," said Greene.
"Christian did a really good job at the World Championships last year, but it's easier to learn from the people who haven't done a good job, but I'm not going to name the names."