London 2012: Dai Greene upbeat on Olympic chances
Last updated on .From the section Wales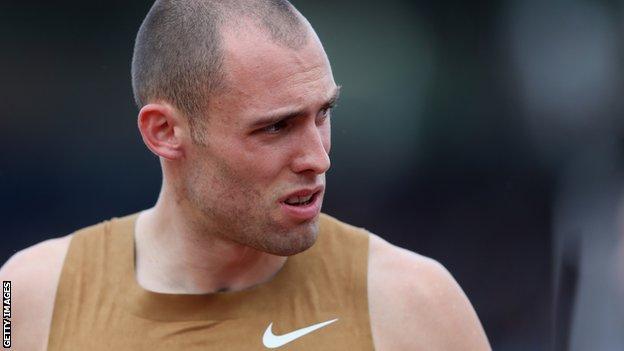 Dai Greene is still confident of winning Olympic gold despite finishing second behind rival Javier Culson at the London Diamond League.
Despite being beaten in his last race before London 2012, Greene was not too downbeat.
"I'm looking forward to the Olympics and hopefully I can get one over Culson then," he said.
"I wanted a bit more. I would have loved to get the win before a home crowd."
At the Diamond League in Paris, Greene had clocked a new personal best of 47.84 to miss Kriss Akabusi's 20-year record by just 0.02s.
And the 26-year-old from Llanelli believes he is peaking at the right time ahead of the Olympics, with the 400m hurdles first round on 3 August.
The World Champion, appointed Team GB's athletics captain, has seen his training and his preparation for the Games blighted with injury and a virus.
"My top-end speed has been better the last few weeks but it needs to improve again and hopefully I can get it right for the Olympics," he added.
"I think it was my third fastest time ever so I can't be too disappointed.
"I've run faster than I did last year already so it seems to be boding well. In a few weeks' time Culson may be tiring [and] hopefully I'll run a bit faster.
"It should be a good final. I've got a few more weeks to get a bit sharper for the Olympics and I'm going in the right direction I think."