Dave Roberts considers allegiance switch to Sweden
Last updated on .From the section Wales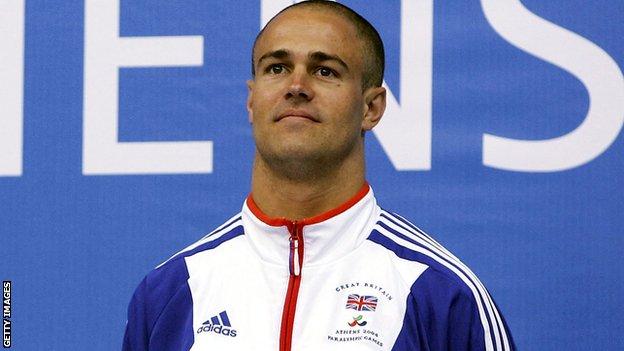 Dave Roberts says he could switch allegiance to compete for Sweden at the 2016 Paralympics in Rio de Janeiro.
Welshman Roberts, 32, is set to marry a Swedish national in December and is contemplating moving to Sweden to gain citizenship.
"If people here don't think I'm good enough I'll go somewhere where I am," a defiant Roberts told BBC Wales Sport.
"Who knows, you may see me swimming for a different country?
"That's what you do in life and in sport in general - you can't allow something to knock you down or push you away because that's not what life's about."
Roberts was omitted from the GB squad for the Paralympics after failing to prove his fitness this year.
He missed the first set of GB trials through illness and failed to make the qualifying times for the 50m and 100m freestyle at the second trials in Sheffield in April.
Roberts attributed his poor form to illness over the past three years, specifically citing a recent bout of pneumonia and a torn tricep for his failure at the trials.
"I've pushed my body to the absolute limit to have a chance of achieving a dream and it's been snatched away from me," he said.
"I don't think I'll ever forgive it, but life moves on. I'm not bitter, I just feel let down."
Roberts won the right to challenge the decision to omit him from the squad, arguing British Swimming failed to follow its own selection policy of taking fitness and medical issues into consideration.
That forced British Swimming to review its selection, but the decision was not reversed, depriving Roberts an opportunity to fulfil his dream of surpassing Baroness Tanni Grey-Thompson as Britain's greatest Paralympian in the modern era.
"This is not retirement for me by a long shot," said Roberts, who needs one more gold to surpass Grey-Thompson's record.
"Who I'll swim for in the future, who knows? But it's not the end.
"I want to be the best. Everything I do I do to be the best and at the moment I'm not.
"That means I've got to look into the future to make sure that I am.
"I have won 11 golds and it is a great career.
"I will never take anything away from it because it's probably unlikely to be rivalled by any swimmer Britain will ever have.
"But it's not good enough for me. I'm a perfectionist, I want the best."