Enzo Maccarinelli apologises over his six-month drugs ban
Last updated on .From the section Wales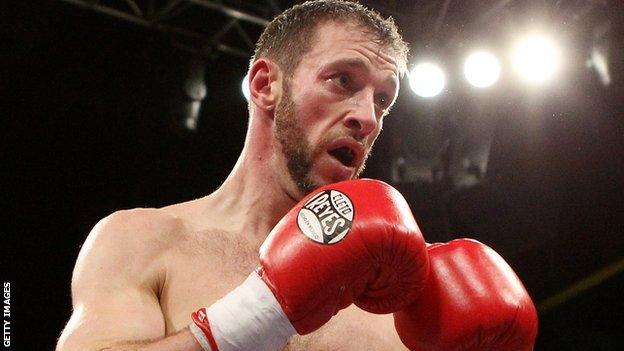 Former boxing world champion Enzo Maccarinelli has apologised after his six-month ban for a doping offence.
UK Anti-Doping said the 31-year-old tested positive for methylhexaneamine after beating Shane McPhilbin in March to win the British cruiserweight title.
Maccarinelli, whose WBO title reign was ended by David Haye in 2008, is banned from all sports until 18 October.
"[I] apologise to everyone involved in boxing for any stain on our great sport," admitted the Welshman.
Maccarinelli, who said he "naively" used a product containing methylhexaneamine as a dietary supplement, has "voluntarily vacated" his British title so McPhilbin can "rechallenge" for the belt.
"I wish to state that this substance was in no way used to gain any advantage in the ring or enhance my performance," added Maccarinelli in a statement.
"And whilst I appreciate that it may look that way, I would certainly never cheat or cut corners in my preparation.
"I have been tested over 20 times in my career and have never failed any random or post- fight doping test, but on this occasion, due to my naivety, I have tested positive for a banned substance.
"I have volunteered to assist UK Anti-Doping in any way I can to prevent other boxers or sportsmen from being put in the same situation as I currently find myself in due to the availability of what appear to be perfectly legitimate supplements and manufacturers not making it clear on their products that they contain banned substances.
"UKAD have accepted my offer and I am determined to ensure, along with the British Boxing Board of Control that the awareness of such supplements is enhanced and others do not have to face the humiliation that I now have to."
UK Anti-Doping Chief executive Andy Parkinson has warned athletes ahead of this month's Olympics in London.
"This is a timely reminder that, no matter what your sport, under the principle of strict liability, athletes must exercise extreme caution over what they put into their body," said Parkinson.
"With this in mind, Olympic athletes should be aware that they are now in-competition from 16 July until 12 August and could be tested at anytime, anywhere. MHA is available in a range of supplement products, is banned in-competition, and can often be listed under a number of different names."
Maccarinelli, who successfully defended his WBO world cruiserweight title four times during his reign between October 2006 and March 2008, said he had bought a product containing MHA after it was advertised in a magazine.
"The advert stated that it was an approved substance and I checked the ingredients which had no reference to any banned substance that I was aware of. In fact, it also stated that it was suitable for athletes.
"I have since found out that this fat burner contained a [banned] substance and consequently I failed a dope test, albeit with a very low reading.
"I was contacted by UK Anti-Doping....where I gave them both the product that I had taken, the container and also the advert from which I ordered these supplements.
"The explanation I gave which is reflected accurately in their formal decision is evidence that my intention was not to knowingly take a banned substance or to gain an unfair advantage in competition.
"I am very conscious of my reputation within the sport of boxing and I promised to fully accept any punishment that was given as a result of this positive test."