Enzo Maccarinelli considers legal action following doping ban
By Peter Shuttleworth
BBC Sport Wales
Last updated on .From the section Wales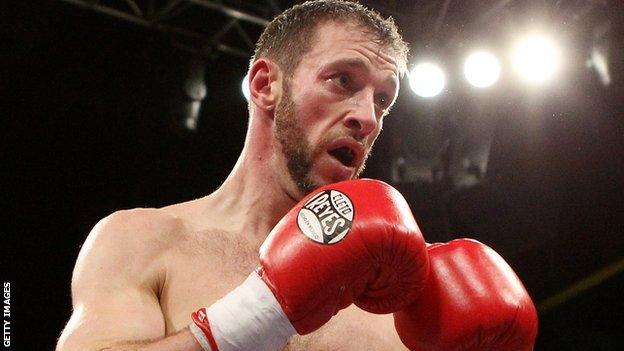 Enzo Maccarinelli is considering legal action against the publication which he claims advertised a product that led to him failing a drugs test.
UK Anti-Doping banned the 31-year-old former WBO world cruiserweight champion from all sports until 18 October.
"I asked UK Anti-Doping what rights have I got," said Maccarinelli.
"And they said I would have to speak to a solicitor so that is what I'm doing.
"It is not so much about the money but my reputation which has always been one of integrity."
Maccarinelli claims he took a "sports supplement" that was "described as a fat-burner" and "not described a fitness booster" advertised in a publication "under the heading of approved supplements for fighters."
"It actually made me feel quite sick so I stopped taking it four days before the fight [with McPhilbin]," recalled Maccarinelli.
"If I felt good and it did the job, I would probably would have kept taking it up to the fight and that would have upped my reading and I would have had an automatic two-year ban.
"There wasn't a high level in my test and in the email I had from UK Anti-Doping agrees with the fact I didn't knowingly put this stuff in my body, they agreed that I didn't intend to enhance my performance in any way and they agreed there wasn't enough substance in my system to be any sort of use on fight night.
"I don't believe there should be cheats in sport, nothing beats hard work and my dad brought me up the right way and for people in some circles to classify me as a cheat, my dad would turn in his grave.
"I feel so bad just thinking that people would think I would cheat when I work so hard."
Maccarinelli, whose two-year WBO world title reign was ended by David Haye in 2008, has also vowed to continue fighting as the Welshman dreams of challenging again for a world crown.
The Swansea fighter, who has vacated his British belt and is now trained by Welsh coach Gary Lockett, has had reassurances from his long-term promoter Frank Warren despite suffering four defeats in his last 11 bouts.
Maccarinelli, who also trains 40 young boxers at the Bonymaen ABC gym he now runs following father Mario's death in January, understands his promoter would have dropped him if "there was any doubts whatsoever" and he insists Warren is "100% behind me all of the way".
"Retirement isn't on my mind, I just want to clear my name," he said.
"I've had a couple of heavy defeats against boys who have gone to fight for world titles and I have been caught with clean shots.
"I want to see how it goes, but up until this ban happened, I was probably looking in the best shape of my life and I was back to my old self."