Sport Wales: Football's crazy summer
By Ian Hunt
Sport Wales reporter
Last updated on .From the section Wales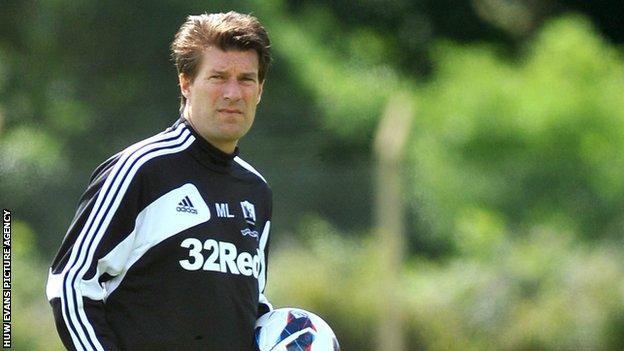 It was the summer when Welsh football made an almighty noise.
Headline after headline. One crazy story after another, competing even with the inescapable roar of the Olympic Games for our attention.
Cardiff City anger some of their own fans by swapping blue shirts for red. Brendan Rodgers disappoints Swansea City supporters by leaving the Liberty for Liverpool, Joe Allen soon treading the same path to Anfield. A world football idol, Michael Laudrup, takes his place. The row over Welsh involvement in Team GB at the Olympics, Craig Bellamy coming back to his hometown club…
So much for a peaceful sunshine break. It rained…and it rained the most dramatic of Welsh football stories.
Sport Wales did have something of a pre-season slumber, but this Friday we snap back into life with a new presenter, Dot Davies, and our own spin on the summer's two biggest football tales.
Losing Rodgers to Liverpool after he guided the club to 11th in their debut season in the Premier League was a bitter blow to Swansea fans. For many, though, the disappointment was tempered by the recruitment in Rodgers' place of one of the true greats of world football. The biggest name ever to be etched on a manager's door in Wales' second city.
But how can Laudrup - the Denmark legend with the club career that took in the footballing superpowers of Juventus, Real Madrid and Barcelona - replicate Rodgers' achievements as he makes his first strides as a Premier League manager?
We meet Laudrup for a training ground chat where he explains why he feels more pressure and responsibility on his shoulders at Swansea than in his previous managerial postings at Brondby, Getafe and Spartak Moscow. He says preserving his reputation as an outstanding footballer, however, is not something that worries him.
Testifying to Laudrup's coaching credentials and helping us paint a portrait of the man as well as the manager are two other Great Danes who starred alongside Laudrup at international level - Manchester United goalkeeping great Peter Schmeichel and former Arsenal midfielder John Jensen.
Changing a manager is one thing. Changing the whole identity of a club, ditching more than a century of history as a means of generating extra income, far harder for supporters to stomach.
Yet that's what Cardiff City fans have had to adjust to after the club's Malaysian owners swapped the club's famous blue strip for a red one and the Bluebird on their emblem for a red Dragon. All as part of a promised £100m investment package.
Sport Wales investigates whether there will be substantial financial gain to offset the pain of Cardiff sacrificing tradition. How much extra cash could they actually make in the Far East market by going red? Can they really hope to compete with leading football brands in the region like Liverpool, Arsenal, Chelsea and the Manchester clubs.
And what can Cardiff learn from other sides - Portsmouth, Blackburn, West Ham among others - who've experienced mixed fortunes under foreign ownership.
Oh, and we also reflect on something else that may have caught your eye over the past few weeks - the phenomenal performances of Team GB and its Welsh contingent at London 2012. We hear from cycling star Geraint Thomas on life as a double Olympic champion, while we consider how the achievements of Thomas, Jade Jones, Fred Evans and the rest can inspire the next generation as we speak to the chair of the Sport Wales governing body, Laura McAllister.
Yes, it is the 'L' word. The legacy London leaves behind.
Sport Wales, BBC Two Wales, Friday, 17 August 19:00 BST.