Paralympics 2012: Olympics inspire archer Pippa Britton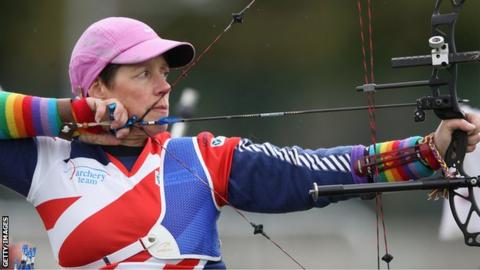 Archer Pippa Britton says she has been inspired by the success of the Olympics ahead of the Paralympic Games.
Britton, 49, is one of 38 Welsh partcipants in the ParalympicsGB team.
The Games open on Wednesday, over two weeks after the end of the Olympics.
"I watched as much of the Olympics as I possibly could partly to give me some sort of idea what it was going to be like," said Britton, who made her Paralympic debut at Beijing in 2008.
"There's been such a big build-up in Britain with us being a host nation for the Olympics as well.
"I don't think there's an Olympic hangover. I think if anything people are fired up about sport at the moment.
"They've been pushing the whole sporting legacy. It will be great if disabled people get inspired as well as kids being inspired to be Olympians.
"We're going to have a huge home crowd this time and that's going to make a big difference. We're not used to huge crowds screaming for us.
"The fact that I've been to one games it gives me a little more ammunition, shall we say, to get over some of the initial nerves."
Britton, who is from Newport, is currently ranked second in the world and will compete on Thursday in the Women's Individual Compound.
Welsh athletes at the 2008 Beijing Paralympic Games came home with 14 medals, including 10 golds.
And Britton believes competitors from Wales will be prominent in London.
"I think we're going to do really well. We've got an incredibly strong team," Britton added.
"We get wonderful support from Sport Wales and Disability Sport Wales as well.
"We're a nation with an amazing sporting heritage and a great sense of national pride and I think that gives us something extra."
Britton, a member of Wales' non-disabled archery squad, did not win a medal in 2008 after finishing fifth, and expects fierce competition.
"When I came back from Beijing I really did feel heartbroken but this time I know it's an incredible achievement to be a two-time Paralympian," Britton said.
"It's going to be an incredible opportunity performing in front of a home crowd.
"The competition is incredibly tight between about 10 people. The scores are all really, really close... everybody has a chance of a medal.
"Obviously I want to get a medal, otherwise I wouldn't be going. I'm just going to try my hardest.
"I think I'm shooting really well at the moment and I have a lot of confidence going in to the competition. I'm hoping it will stand me in good stead."