Jade Jones column: Olympic fever leaves me wanting more

By Jade Jones
London 2012 contender
Last updated on .From the section Wales51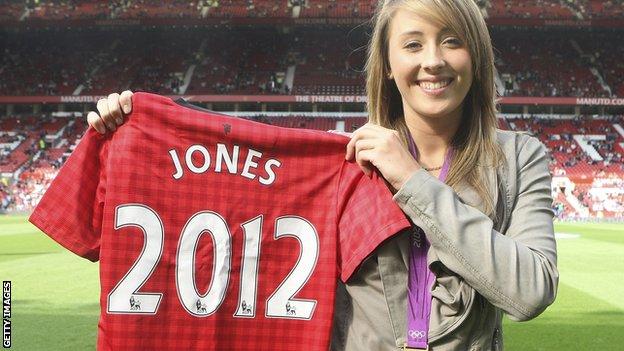 Jade Jones won a taekwondo gold medal for Great Britain at the London 2012 Olympics.
Since then, the 19-year-old from Flint in north Wales has been coming to terms with her success, as well as dealing with her new-found fame.
Here, she gives BBC Sport Wales an idea of what life has been like for her, an Olympic champion.
It's now almost two months since I won taekwondo gold in London but the carnival continues.
I've been at so many functions and ceremonies, handed out awards and even been presented with my own Manchester United shirt in front of 75,000 fans at Old Trafford. I've been a supporter since I was four years old and it was the first time I had watched them live!
It's been a surreal experience, but it's been extra special that my family have been able to enjoy it with me.
I don't think they can still quite believe it. My mum still cries when she watches the final. I've watched it only once since - that's been down to a lack of time than anything else.
The media obligations were relentless from the moment I won gold. I barely had any sleep for the first few days as I was rushed around from one interview to the next.
That was hard but it's a bit more chilled now and I'm able to enjoy it a bit more.
It all started with a homecoming in Flint, and that was just an amazing experience.
It's a small town but there were thousands out on the streets. It was raining and so I thought no-one would come, but there were people from all over the UK.
I was joined by my family and friends on an open-top bus, with music blaring and plenty of dancing going on. It was all kicking off and I was overwhelmed by it all.
I've always felt a close connection with the people of Flint because they've been so supportive. I was thrilled to give something back. To see the pride in their faces was so special. It was such an emotional day.
Next up was the reception for all the Olympic and Paralympic athletes in Cardiff Bay. We've become a little family and I've definitely made friends for life. Hopefully we'll be celebrating together in 2016.
Yes, I've already started thinking about defending my title in Rio de Janeiro. I'm not competing again until next year and my coach has given me until January to be a normal person.
I'm still training quite a lot but at least now I'm able to go out with friends. That's something I had to sacrifice for two years leading up to the Olympics.
People tried to explain to me what the Olympic experience was all about, but nothing can prepare you for the whole adventure.
You have to be there. You have to live it. You have to feel the emotion for yourself. It's indescribable.
London was all I had on my mind. It controlled my life totally. It takes its toll mentally, let alone physically.
Refreshing mentally was particularly important. I needed a blow out. But as soon as I return to training properly, that's it, the focus is back.
I'd heard past Olympic champions talking about the void they felt after achieving their goal, and I can definitely relate to that now.
My immediate thought after winning was 'what do I do now'? I'd reached my goal. I was an Olympic champion at 19 years old and that's possibly the best thing that will ever happen to me.
So now it's time to take a little time out and refresh my goals. I'm not European or World champion yet so that will definitely keep me going.
The nerves I felt at the Olympics were nothing I've ever experienced before, but there was so much pride in wearing the Great Britain kit.
The atmosphere in the Olympic village was another experience I'll never forget. You had three-time Olympic gold medallists mixing with young athletes making their debuts.
It's unique and it's certainly left me wanting more. The only problem is that I'll have to wait four years to do it all again.
Jade Jones was talking to BBC Sport Wales' Dewi Hughes