Wales netball team complete Tri-Nations cleansweep
Last updated on .From the section Wales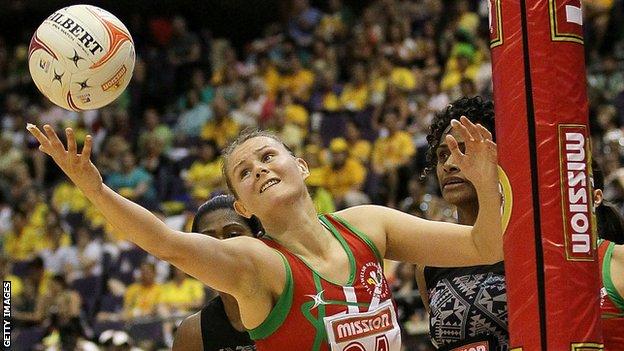 Wales's netball team completed a Netball Cook Islands Tri-Nations cleansweep as they thrashed the Cook Islands 71-20 on Wednesday.
Wales defeated hosts the in their opening game of the three-match series before beating Scotland 48-34.
Now the Welsh have secured the biggest win on their South Pacific Tour by beating the Cook Islands again.
"That's what we wanted to do tonight," said Wales coach Melissa Hyndman.
"And it was nice to finish with my young girls out on court.
"I would seriously look at coming back especially if they can get someone like Fiji over as well. We've really loved it, we've loved the courts, our girls have loved the hospitality and we've come over and been successful, which was our goal.. winning the Tri series.
Wales's success consolidated their top 10 world ranking place ahead of the 2014 Commonwealth Games in Glasgow.
Wales team:Rebecca James, Cara Lea Moseley, Sophie Morgan, Suzy Drane, Nic James, Sara Hale, Jamilla Abbott. Subs used: Chelsea Lewis, Emma Thomas, Kyra Jones, Stephanie Williams, Rosie Pretorius.