Jamie Donaldson joy at opening Shanghai effort
Last updated on .From the section Wales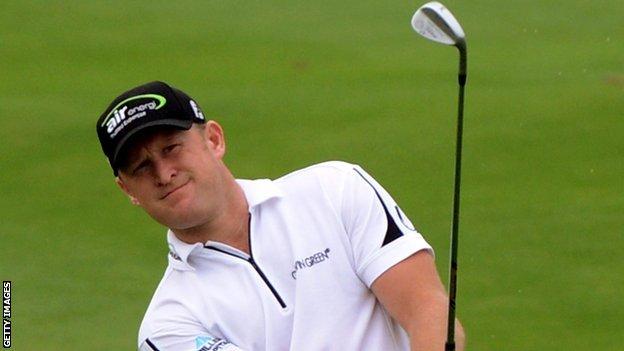 Welshman Jamie Donaldson admits everything went his way as he struck a course-record 62 to lead the BMW Masters by four shots on 10 under par after the first round in Shanghai.
He left an "awesome" field, including Rory McIlroy, trailing in his wake.
"I played really well start to finish. Never really missed a shot," said 37-year-old Donaldson.
"It was one of those rounds where you hit everything where you want to hit it and every putt where you want to."
Donaldson's exploits in China continues a rich vein of form that has seen the Welshman move more than 50 places up the world rankings in the past four months.
He broke his European Tour duck in July by winning the Irish Open, and then finished seventh at the US PGA Championship in August.
However, his strong form came too late to become a serious contender for a place in the Europe team captained by Jose Maria Olazabal that won the Ryder Cup.
Olazabal and world number one McIlroy were among those to trail in Dondaldon at Lake Malaren.
And while Donaldson concedes his success at the Irish Open was the start of an upturn in his fortunes, he is concentrating on the task at hand.
He said: "The results speak for themselves, really, don't they?
"I don't like to drink my own bath water, if you like, but Ireland was great, we won, we finally won, and it was a great week and we played really well from start to finish.
"It's a sign of what I have done, but that's gone now. We just need to concentrate on what we're doing each round and each day and get the most out of it.
"You're not playing for anything else but to win tournaments, just how we're going to do it and win.
"So when it all comes together, you've just got to finish it off.
"It's an awesome field so we need to keep playing like that if we're going to stay ahead.
"We've got some of the best golfers in the world here this week so we know it's a tough test.
"Today was just one of those days. It went my way, so we're very happy."
Donaldson is currently 51st on the world rankings and at the end of the year the top 50 earn invitations to the Masters in April.