Coming up on Sport Wales: The TV programme
Last updated on .From the section Wales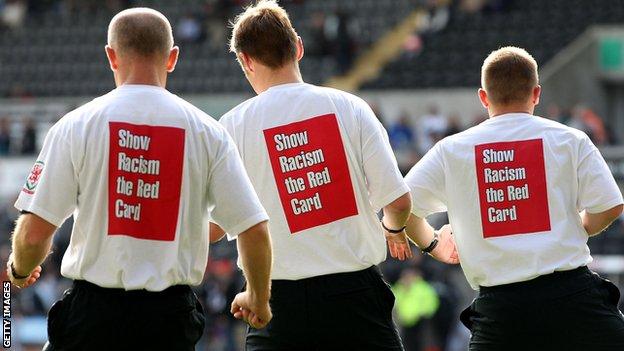 Racism in football has topped the sporting news agenda over the last few days, with former Wales striker Nathan Blake one of many saying a black players' union is the only way to achieve equality in football.
Swansea City players chose not to wear the Kick It Out anti-racism campaign T-shirts ahead of their win at home to Wigan last week with Wales captain Ashley Williams stating "there were a few players that felt they didn't want to wear them".
On this week's Sport Wales, Ian Hunt investigates the level of racism in Welsh football, from Swansea City in the Premier League right down to the grassroots where the next generation of young footballers are plying their trade.
One youngster who has shot to prominence recently is 19-year-old defender Ben Davies who, just two months ago, had never even played a game of first team football.
Fast forward to today and he's made his international debut and is fast becoming a Premier League regular for Swansea City.
Sport Wales takes him back to his old school, Ysgol Gyfun Ystalyfera near Swansea, to find out what he's made of the last eight weeks and to chat ahead of the Swans game against Manchester City on Saturday.
That's where presenter Lisa Rogers has been too - taking in The Etihad Stadium and seeing what life's like at the home of the Premier League champions.
This summer's Olympics saw much debate over the rights and wrongs of Welsh involvement in a Team GB football side.
On Sport Wales this week, Steffan Garrero has been investigating the row involving the Welsh basketball governing body, who pulled the plug on plans to permanently link up with Scotland and England as Great Britain.
International rivalry and bragging rights will also be on offer when the Wales rugby league side take on England at The Racecourse Ground in Wrexham.
Wales lost to France last weekend so with just a year to go until they face Italy at The Millennium Stadium in the Rugby League World Cup, Sport Wales hangs out with the side during their build up.
And never one to turn down a new challenge, Iwan Thomas takes on night surfing as he attends SplashUp - the first music and water sports event in Porthcawl.
Intrigued? Make sure you tune into BBC Two Wales, 21:00 BST on Friday, 25 October.